Warm Puy Lentil Salad with Balsamic Leeks
Serves: 4
Ready in: 30 to 60 mins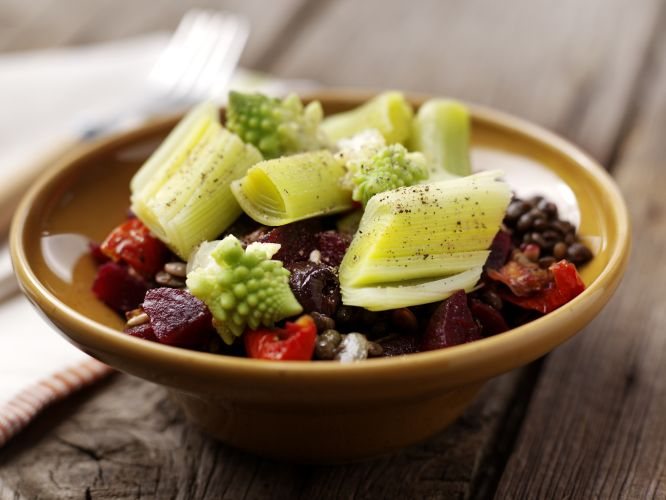 Ingredients:
110g Puy lentils, rinsed
300ml vegan vegetable stock
150g cooked beetroot, diced
50g sun blush semi-dried tomatoes, roughly chopped
25g pitted black olives
sea salt and black pepper
2 tbsp balsamic vinegar
275g leeks, halved lengthways and cut into even 2cm lengths
75g cauliflower florets
method:
Rinse the puy lentils and place in a large pan with the vegetable stock. Simmer the lentils with the stock for about 20 minutes or until the lentils are tender.
Meanwhile, dice the beetroot and roughly chop the sun blush tomatoes. Leave until needed.
Drain the lentils and place in a large bowl with the beetroot, tomatoes and olives. Season, mix well and drizzle with the balsamic vinegar. Divide into four serving bowls or plates.
Steam the leeks and cauliflower florets for around five minutes or until just tender. Carefully place onto the lentil mixture and drizzle with more balsamic just before serving.
Print Recipe
www.british-leeks.co.uk
Did you make this recipe?
Share your creations by tagging @livegreenandgood on Instagram with the hashtag #livegreenandgood