Victoria Sponge
Serves: 8
Ready in: 30 to 60 mins
"The new generation of sweeteners using stevia plant extracts offer welcome choice to cooks who are cutting down on sugar for their health or waistline. In this reduced-sugar cake, fruit and healthy dairy products help balance out the indulgence of opting for a slice at teatime, but it still tastes like a treat!"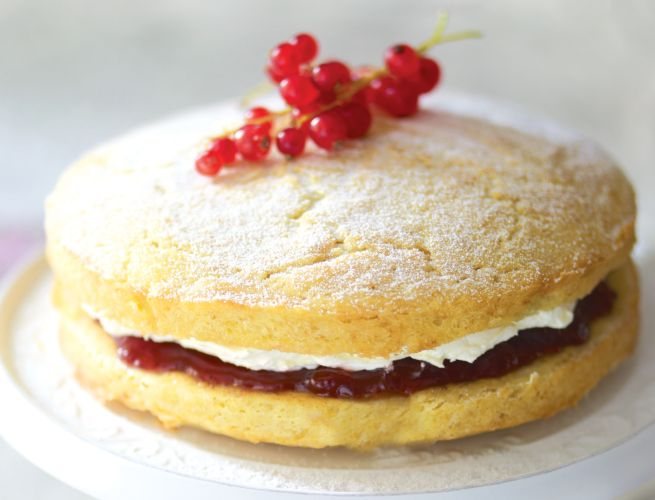 Ingredients:
4 free-range eggs
25g Pure Via sweetener
225g self-raising flour, sieved
1 tsp baking powder, sieved
225g margarine or soft butter
100ml half-fat crème fraîche, lightly whipped
400g fresh raspberries
1-2 tbsp Pure Via sweetener
method:
Preheat the oven to 180C/350F/Gas 4 and grease and line two 18cm (7in) sandwich tins.
Add the eggs to the mixing bowl of a food processor or mixer and add the Pure Via, flour, baking powder and margarine and mix until well combined. It should drop off your spoon easily. If it is stiff, mix in a little milk to loosen it.
Divide between two tins and level the surface. Bake for 25 minutes until golden and springy to the touch. Cool in the tin for 10 minutes then remove and leave to cool completely on a wire rack.
Meanwhile, make the filling. Put the raspberries in a shallow pan and sprinkle over Pure Via. Add just enough water to cover, then bring to the boil and reduce to a simmer. Cook for 15-20 minutes until they have broken down and the water has been absorbed. Pulse in the processor or mash with a fork. Put to one side and leave to cool.
To serve, spread one cake, upside down, with the raspberry mixture and the other with crème fraîche and sandwich together.
Print Recipe
www.purevia.com
Did you make this recipe?
Share your creations by tagging @livegreenandgood on Instagram with the hashtag #livegreenandgood