Tomato-rubbed Toast
Serves: 4
Ready in: 15 to 30 mins
This nutrient-packed breakfast of sweet, roasted tomatoes squashed onto warm toast, topped with egg and veggies, makes a scrumptious start to the weekend...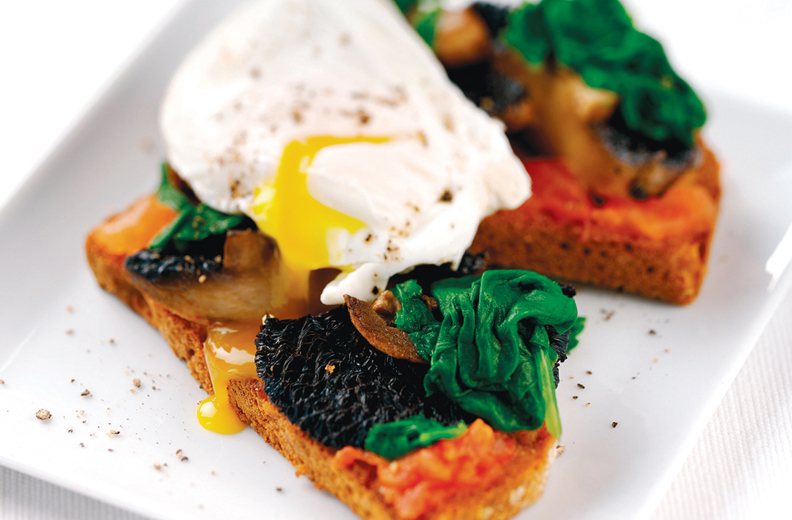 Ingredients:
4 ripe vine tomatoes, halved
4 large portobello mushrooms, halved horizontally
1 tbsp vinegar
4 large eggs
75g fresh baby spinach, rinsed
1 tbsp olive oil
4-8 slices of Irish soda bread, toasted
method:
Preheat the oven to 200C/400F/Gas 6. Grease a baking sheet then place the tomato halves on the tray with the halved mushrooms. Season and bake for 13 minutes.
Meanwhile, bring a pan of water to simmer and add the vinegar. Crack the eggs and gently drop them into the water. Cook for a couple of minutes until they are poached to your liking and transfer to a warmed plate with a slotted spoon.
Arrange the spinach onto the mushrooms, drizzle the tomatoes and spinach with the oil and cook for a further two minutes.
Squash one tomato half into each slice of toasted bread, then sandwich the mushroom and spinach together and place on top of the tomato toast. Top with the softly poached eggs and serve with an extra roast tomato. Season and serve immediately.
Print Recipe
www.hgca.com
Did you make this recipe?
Share your creations by tagging @livegreenandgood on Instagram with the hashtag #livegreenandgood