Tomato and Pomegranate Salad
Serves: 4
Ready in: Under 15 Mins
This fresh and fruity salad is the perfect accompaniment to a Moroccan-themed family dinner with couscous, hummus and flatbreads, or even for a summer picnic or barbecue. Recipe extracted from The mymuybueno Cookbook by Justine Murphy (Meze, £25).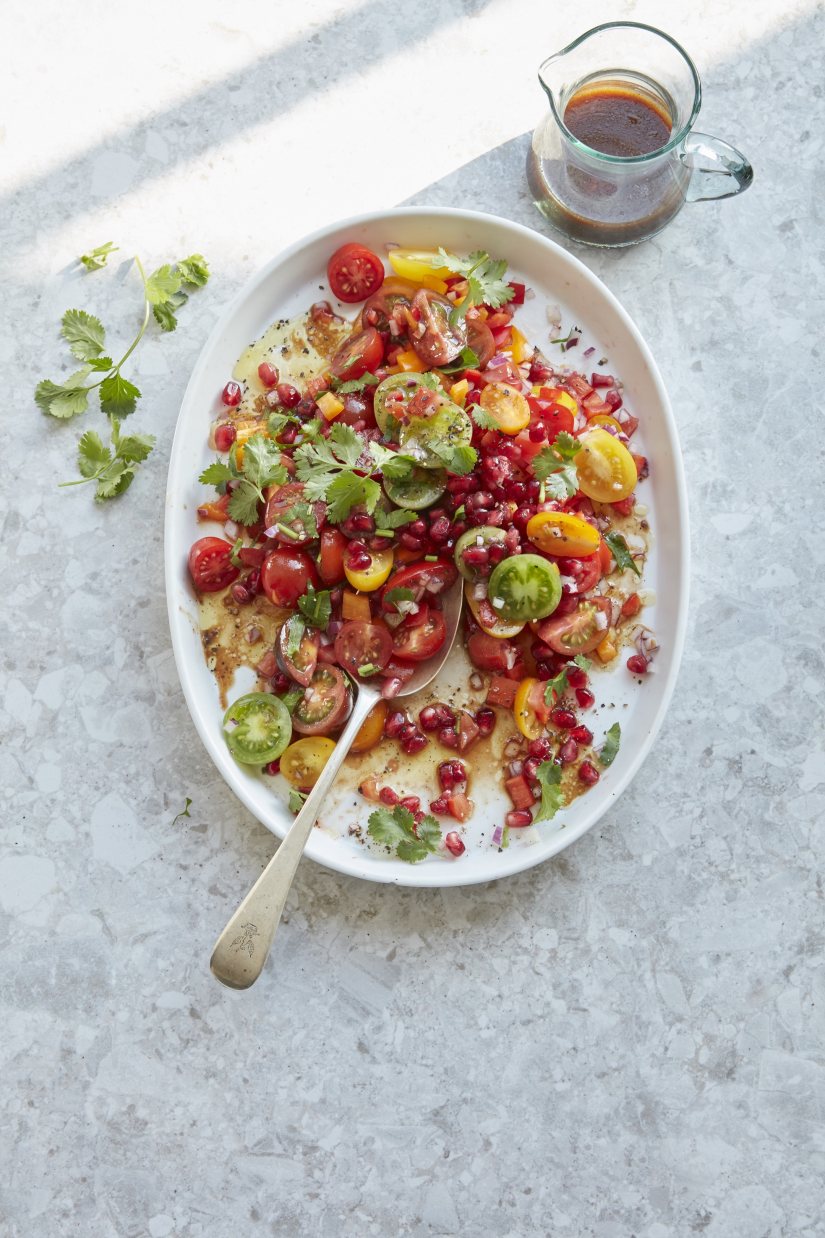 Ingredients:
For the pomegranate dressing:
5 tbsp pomegranate molasses 3 tbsp olive oil 2 tsp balsamic vinegar 2 garlic cloves, grated ¼ tsp cinnamon ¼ tsp nutmeg
For the salad:
200g red cherry tomatoes, halved 200g yellow cherry tomatoes, halved 200g vine tomatoes, chopped into 1cm dices 1 red pepper, chopped into 1cm dices 1 yellow pepper, chopped into 1cm dices 1 small red onion, finely diced 1 medium pomegranate, deseeded a handful of fresh coriander leaves flaked sea salt a grind of black pepper
method:
Put all of the dressing ingredients into a jar, put the lid on and shake well until combined. You can also put everything into a small bowl and whisk together until well-combined.
To make the salad, add the prepared tomatoes, peppers, onion and pomegranate seeds to a platter. Toss to distribute everything evenly. Drizzle the pomegranate dressing over the whole salad with a spoon and toss to coat everything well.
Add the fresh coriander, and season well with salt and pepper before serving.
Print Recipe
mymuybueno.com/
Did you make this recipe?
Share your creations by tagging @livegreenandgood on Instagram with the hashtag #livegreenandgood