Tofu Frittata with Curly Kale
Serves: 4
Ready in: 30 to 60 mins
Cost Cutting Eco Friendly Vegan Friendly
This delicious and easy frittata uses protein and calcium-packed tofu instead of the traditional eggs. Not only does it taste good but it is cholesterol-free and low-fat, as well as being a cool way to eat your greens! We made it with kale but it works equally well with spinach or Swiss chard. This would work with lots of side dishes, but we particularly liked it served with baked or microwaved sweet potato wedges and a dip made from soya yoghurt mixed with a couple of teaspoons of wholegrain mustard. Recipe by the Vegetarian Recipe Club– from Viva! and the Vegetarian & Vegan Foundation. For more great Vegan recipes visit [url=http://www.vegetarianrecipeclub.org.uk]http://www.vegetarianrecipeclub.org.uk[/url].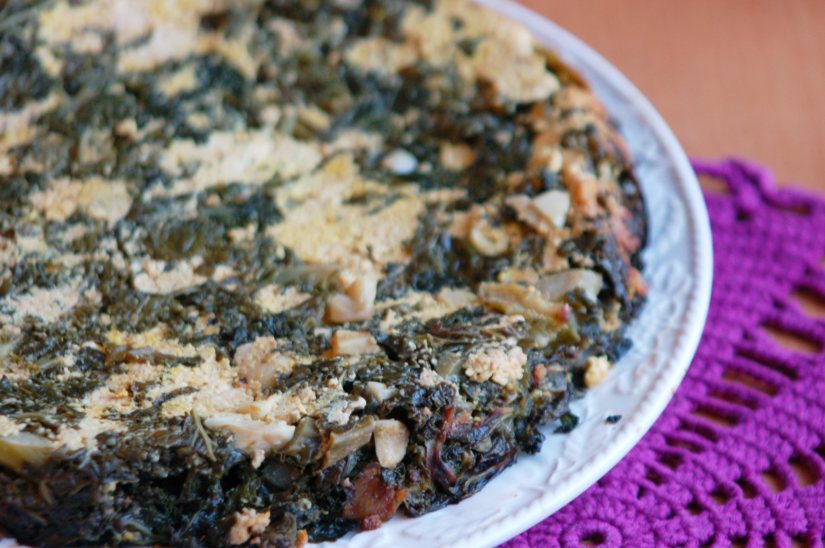 Ingredients:
1 tbsp olive oil or 3 squirts oil spray
6 cloves garlic, roughly chopped or crushed
1 bag ready-chopped curly kale OR 1 bunch Swiss chard, woody stems removed and chopped roughly OR 1 large bag of spinach, chopped roughly
2 tsp dried oregano
400-450g firm tofu
1 tbsp soya sauce
1 tbsp Dijon mustard
¼ tsp turmeric
½ cup Engevita nutritional yeast flakes*
Freshly ground black pepper – quite a lot
Salt to taste
Optional:
¼ tsp allspice
½ tsp paprika
1 pinch mild chilli powder

*Available from good health food shops and delis - in a brown or blue tub. The latter is fortified with B12. Don't get yeast flakes confused with brewer's yeast - they are completely different.

method:
Pre-heat oven to 200˚C/400˚F/Gas Mark 6. Use a good quality non-stick 20cm/8 inch shallow cake tin – round or square - and preferably with a loose base. Lightly coat it with oil spray or a little oil.
Unwrap the tofu and place it in a colander over the sink. Press as much water out of it as possible and set aside.
Meanwhile, heat a wok or fairly heavy-bottomed large pan over a medium heat. Add the olive oil/spray then gently sauté the garlic in it for a minute or two, stirring so it doesn't catch and burn. Add a tiny splash of water or two if it begins to stick.
Turn up the heat and add the greens and oregano. Cook for 3-5 minutes, or until the greens are well wilted – if using kale, make sure it is tender. Add a splash of water if it starts to dry out.
Now make the frittata base. Crumble the tofu so that it looks like cottage or ricotta cheese. Add the rest of the ingredients and stir in well.
6. Add the tofu mixture to the cooked greens and mix everything together well. Keep it dry. Taste and add salt or more pepper if necessary.
7. Press the mixture in firmly to the greased cake tin, using something heavy to press it down.
8. Bake it for 20 minutes or until it is lightly browned. Let it cool for 3 minutes before turning upside down on a plate. Cut into slices and serve.
Print Recipe
Did you make this recipe?
Share your creations by tagging @livegreenandgood on Instagram with the hashtag #livegreenandgood