Tofu and Cranberry Balls with Figs and a Blue Cheese Dip
Serves: 6
Ready in: 30 to 60 mins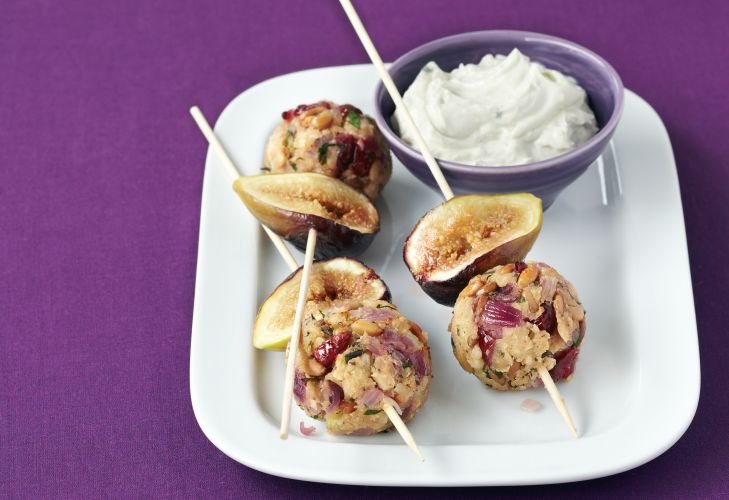 Ingredients:
50g breadcrumbs
100g tofu
1 celery stick, finely chopped
1 small red onion finely chopped
zest and juice of 1 lemon
2 tbsp dried cranberries
10g toasted pine nuts
2 tbsp chopped fresh thyme
2 tbsp chopped fresh sage
salt and pepper
6 bamboo skewers
3 fresh figs
2 tbsp honey
100g cream cheese
20g vegetarian blue cheese (eg Dolcelatte)
method:
Preheat the oven to 200C/400F/Gas 6. Add the breadcrumbs and tofu to a blender and blend together.
Place the tofu mixture into a large mixing bowl and add in the celery, onion, lemon zest, cranberries, pine nuts, fresh herbs and season with salt and pepper. Mix together and form into six balls.
Chop the figs in half and thread one half onto each skewer along with one of the tofu balls. Place the skewers on a flat baking tray and drizzle the honey over the figs. Bake in the oven for 15-20 mins until golden and the figs are slightly caramelized.
Place the cream cheese, blue cheese and lemon juice in a mini blender and combine well. Serve alongside the skewers as a dipping sauce.
Print Recipe
Did you make this recipe?
Share your creations by tagging @livegreenandgood on Instagram with the hashtag #livegreenandgood