Thai Bean Burgers & Sweet Potato Wedges
Serves: 4
Ready in: 30 to 60 mins
Know your nutrients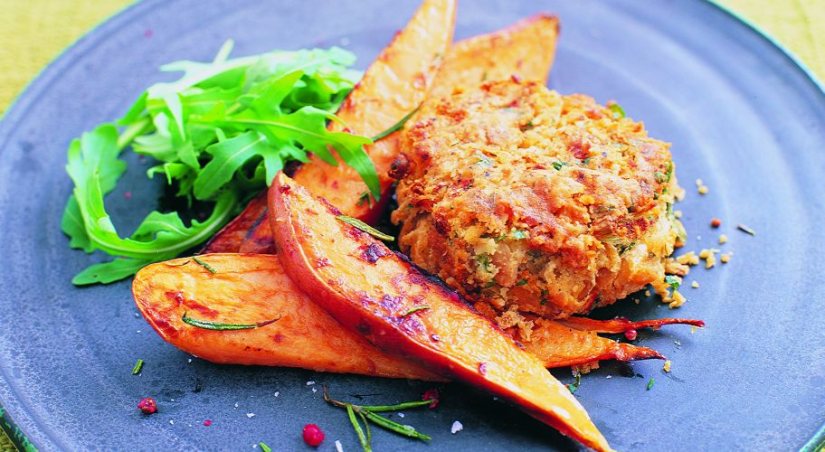 Ingredients:
[hd]For the potato wedges[/hd]

3 large sweet potatoes – peeled
1 tbsp olive oil
sprig of rosemary – taken off stalk
freshly ground black pepper

[hd]For the burgers[/hd]

1 garlic clove, peeled and chopped
2.5cm (1 inch) piece of fresh ginger, peeled and grated
1 small red chilli
handful fresh coriander leaves
1 small lemongrass stalk, topped and tailed, then smashed under the handle of a knife and chopped
1 lime, juiced
1 tbsp soy sauce
2 x 400g tin butter beans, drained and rinsed
6-8 spring onions, chopped
100g plain flour
freshly ground black pepper
olive oil for frying
method:
Preheat oven to 180C/350F/Gas 4. Cut the potatoes into wedges and place on an oiled baking sheet. Turn in the oil. Sprinkle with rosemary and pepper. Back for approx 20-25 minutes.
In a blender/processor, put the garlic, ginger, chilli, coriander, smashed and chopped lemon grass, lime juice and soy sauce and whiz until a smooth paste. (If you don't have a blender/processor, chop the ingredients very, very finely.) Roughly mash the butter beans, add the chopped spring onions and paste, mix well and mould into burger-shaped patties.
Put the flour on a plate and season with freshly ground black pepper. Gently turn the patties in the flour to coat. In a large frying pan add the oil and fry the burgers on a high heat for a few minutes each side.
Serve with a fresh salad.
Print Recipe
www.govegan.org.uk
Did you make this recipe?
Share your creations by tagging @livegreenandgood on Instagram with the hashtag #livegreenandgood