Sweet Potato Dosas
Serves: 4
Ready in: 60 mins +
These are a delicious, spiced alternative to pancakes. You want to mash the sweet potato a bit when it's in the pan to make it nice and fluffy. Recipe extracted from MOB Veggie: Feed 4 or More for Under £10 by Ben Lebus (Pavilion Books). Photography: Haarala Hamilton.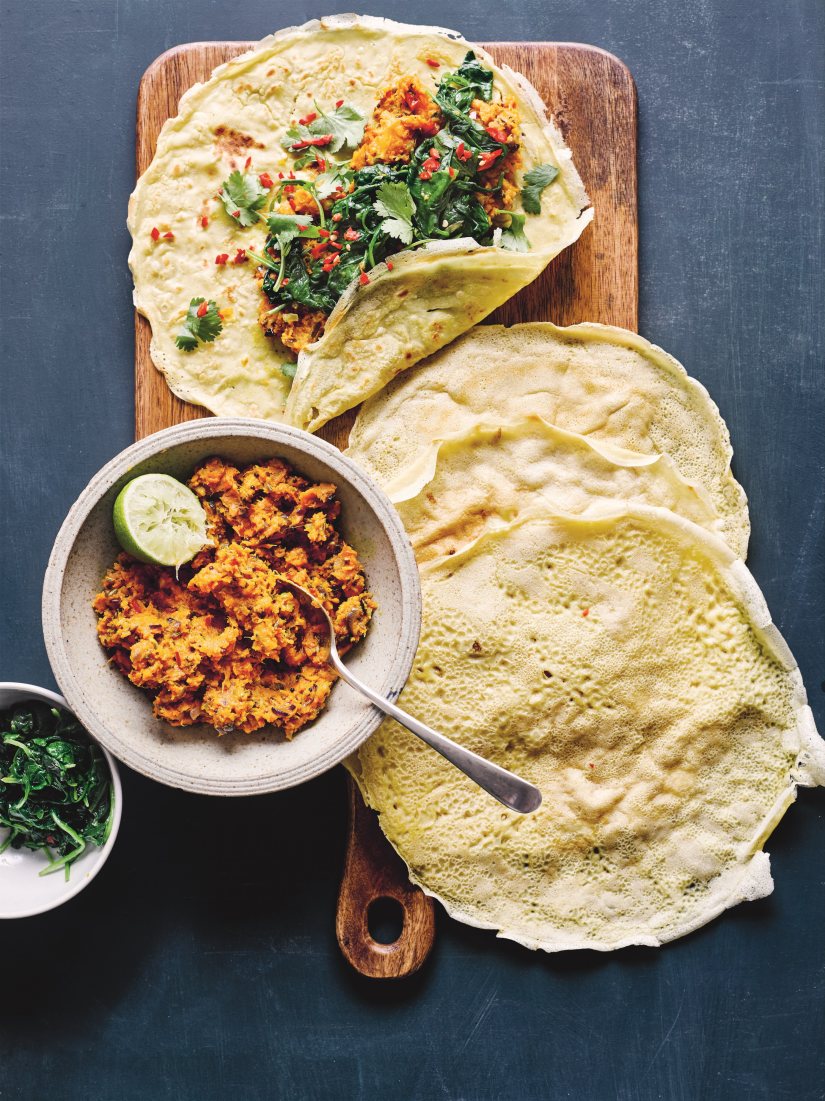 Ingredients:
plain (all-purpose) flour
chickpea (gram) flour
4 sweet potatoes
1 red onion
garlic
fresh ginger
2 red chillies
fresh coriander (cilantro)
mustard seeds
fennel seeds
cumin seeds
ground turmeric
1 lime
olive oil
salt and pepper
method:
Pour 100g of each flour into a large bowl with 375ml water, and use a whisk to mix the ingredients into a smooth batter. Cover and place in the fridge for at least an hour. It will keep for up to five days.
Preheat your oven to 220C/450F/Gas 8.
Chop your sweet potatoes into cubes and drizzle with olive oil, then season with salt and pepper. Cook for 30 minutes or until the sweet potato is soft and caramelized.
Chop the onion, four garlic cloves, a 2.5-cm piece of ginger, one red chilli (de-seed it first) and the coriander stalks.
Add some olive oil to a frying pan, then fry two teaspoons each of mustard seeds, fennel seeds and cumin seeds, until they are fragrant.
Add your chopped onion, garlic, ginger, chilli and coriander. Fry this over a low heat until soft. Add a teaspoon of ground turmeric and the roasted sweet potato. Mix well, semi-mashing the sweet potato.
Oil a frying pan, pour a ladle of batter into the pan and move your ladle in a circular motion to create a thin pancake.
Flip and cook the dosa so that both sides are golden-brown and crispy. Repeat with the rest of the mixture.
Take a dosa, spoon in some sweet potato filling, and finish with a bit of lime juice, more chopped red chilli and some chopped coriander leaves. Enjoy, MOB!
Print Recipe
www.mobkitchen.co.uk/
Did you make this recipe?
Share your creations by tagging @livegreenandgood on Instagram with the hashtag #livegreenandgood