Sweet Potato Chocolate Blondies
Serves: 12
Ready in: 30 to 60 mins
A tasty plant-based, gluten-free dessert, these sweet potato blondies bring together a delicious mix of savoury and sweet flavours. They're a perfect treat to eat after any meal, or for elevenses with a cuppa.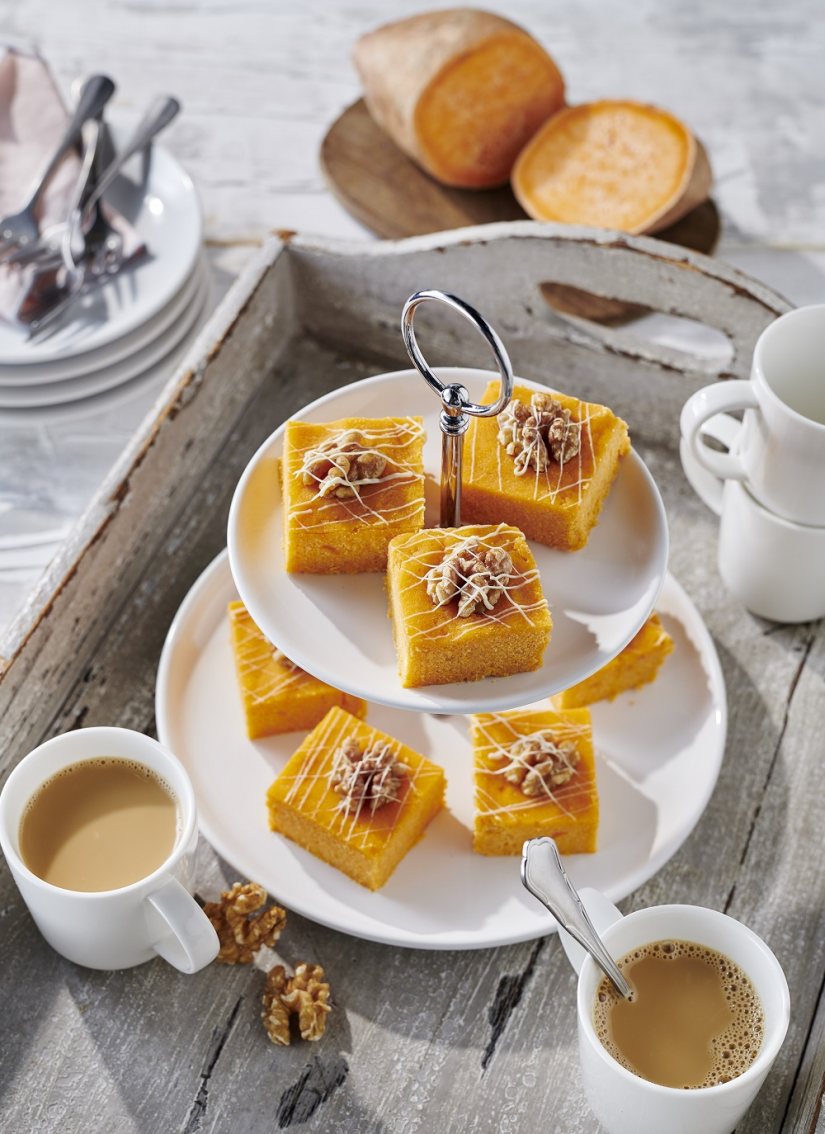 Ingredients:
600g US sweet potatoes
100g vegan white chocolate
150g almond flour
1 tsp baking powder
2 tbsp Canadian maple syrup
12 Canadian walnuts
method:
Wash the sweet potatoes thoroughly and prick them several times with a sharp knife. Wrap them in damp kitchen paper and cook in the microwave at the highest setting for about 10 minutes, or in a preheated oven at 180C top/bottom heat for about one hour. Leave the oven switched on. Halve the sweet potatoes, remove the flesh and purée finely.
Grate the chocolate and mix with the sweet potato purée, almond flour, baking powder and maple syrup until it forms a smooth dough. Spread the dough in a rectangular baking mould (approx. 14cm x 22 cm and 2cm high) lined with baking paper. Press down well.
Spread the walnut halves on the dough, press a little and bake in the oven for about 20 minutes. Let the blondies cool on a cake rack, decorate with white chocolate if desired and let dry. Cut the sweet potato chocolate blondies into 12 pieces and serve.
Print Recipe
americansweetpotato.org/
Did you make this recipe?
Share your creations by tagging @livegreenandgood on Instagram with the hashtag #livegreenandgood