Sweet Potato and Coconut Curry
Serves: 6
Ready in: 60 mins +
A lovely and mild curry, this one has a touch of natural sweetness from the potatoes. This recipe uses the Crock-Pot Lift & Serve Digital Slow Cooker.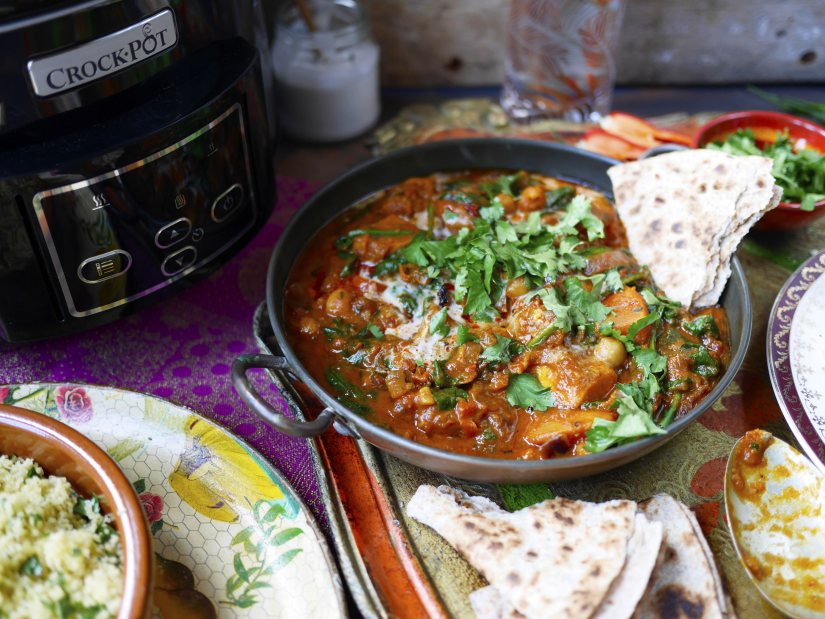 Ingredients:
2 tbsp vegetable oil
2 large onions, thinly sliced
2 large cloves of garlic, finely chopped
1 large red chilli, finely chopped
1 thumb-sized piece of ginger, peeled and finely chopped
2 tsp ground cumin
2 tsp paprika
1 tsp turmeric
1 red pepper, deseeded and sliced
200g red cabbage, shredded
1kg sweet potatoes, peeled and cut into 1" pieces
400ml carton of passata
300ml vegetable stock
400ml coconut milk
400g tin chickpeas, rinsed and drained
2 tbsp peanut butter
To serve:
100g baby spinach leaves, roughly chopped
coriander leaves
300 couscous
method:
Heat the oil in a large frying pan and add the onion. Cook for about five minutes, then add the garlic, chilli and ginger, and continue cooking for a further few minutes. Lower the heat, adding the spices, and stirring well to prevent any burning.
Spoon the mixture into your crockpot bowl. Add the red pepper, red cabbage, sweet potatoes, lentils, passata, stock and coconut milk, then stir to combine all of the ingredients. Cover and cook on High for 4-5 hours, until the potatoes are tender.
Stir in the chickpeas. Place the peanut butter into a small bowl, add a few spoonfuls of the hot curry sauce, and mix until smooth before adding this to the rest of the pot. Continue cooking for a further 30 minutes.
Before serving, place the couscous into a heatproof bowl, add 300ml boiling water and cover to steam for a few minutes. Remove the cover and fluff with a fork, adding a little olive oil and some salt and pepper. Stir the spinach into the hot curry and serve alongside the couscous, scattered with fresh coriander leaves.
Print Recipe
crockpot.co.uk/
Did you make this recipe?
Share your creations by tagging @livegreenandgood on Instagram with the hashtag #livegreenandgood