Super Summer Salad
Serves: 6
Ready in: Under 15 Mins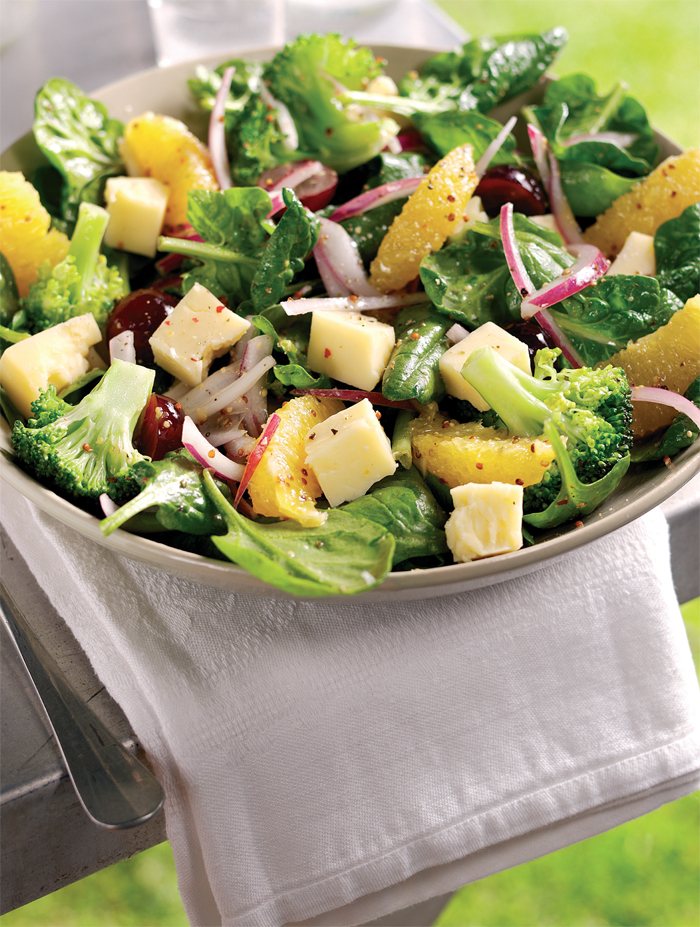 Ingredients:
150g broccoli, broken into florets
2 large oranges
1 red onion, finely sliced
2 tsp red or white wine vinegar
2 tsp wholegrain or Dijon mustard
3 tbsp olive oil
175g baby spinach
110g seedless red grapes
110g Pilgrims Choice Vintage Extra
Mature Cheddar, cut into small cubes
salt and freshly ground black pepper
method:
Cook the broccoli in boiling water for 4-5 mins, until just tender. Drain and rinse with cold water.
Meanwhile, peel the oranges with a sharp, serrated knife to remove all the pith. Do this over a large salad bowl to catch the drips. Segment the oranges, removing all the membrane, then add to the salad bowl. Add the red onion, vinegar, mustard and olive oil. Stir gently and leave for 10 minutes to marinate.
Add the broccoli, spinach, grapes and cheese to the salad bowl. Toss gently to coat in the dressing, then serve.
Print Recipe
www.pilgrimschoice.com
Did you make this recipe?
Share your creations by tagging @livegreenandgood on Instagram with the hashtag #livegreenandgood