Summer Salad with Feta and Pickled Cherries
Serves: 4
Cost Cutting Eco Friendly Gluten Free‏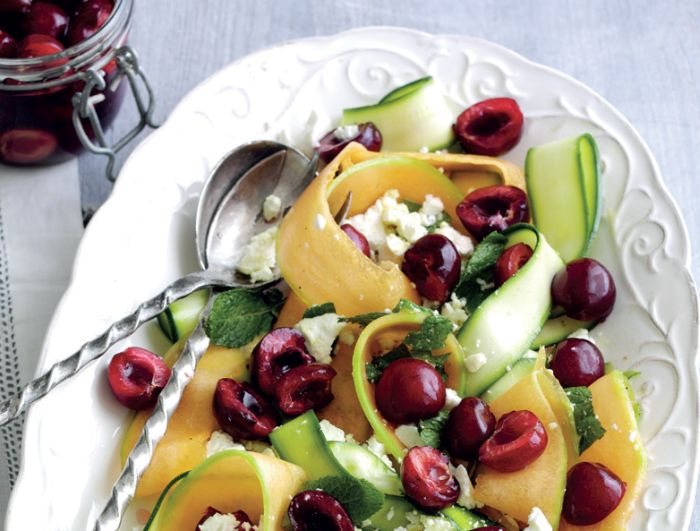 Ingredients:
[hd]For the Pickled Cherries[/hd]
50ml red wine vinegar
1 tbsp sea salt
150ml water
100g caster sugar
200g cherries, halved and stones removed

[hd]For the Salad[/hd]
1 medium courgette, stalk removed
1/2 firm cantaloupe melon, skin and seeds removed
2 tbsp extra virgin olive oil
pinch of sea salt
small handful mint leaves
100g vegetarian feta
method:
Place the red wine vinegar, salt, water and sugar in a small saucepan and bring to a boil. Boil for two minutes, stirring to make sure all the salt and sugar has dissolved. Take off the heat, pour into a bowl or container and leave to cool for five minutes. Add the cherries and leave to cool to room temperature. (If making ahead of time, place in the fridge to chill.)
Use a speed peeler or mandolin to make courgette ribbons the length of the courgette. Thinly slice with a knife or use a mandoline to thinly slice the melon into long strips. Toss the melon in a bowl with the olive oil and a pinch of salt. Spread on a large platter. Sprinkle on the mint, crumble on the feta and scatter over the cherries. Drizzle a couple of tablespoons of the pickling liquid over the top.
Print Recipe
www.seasonalberries.co.uk
Did you make this recipe?
Share your creations by tagging @livegreenandgood on Instagram with the hashtag #livegreenandgood