Stir-fried Veggie Fajitas
Serves: 4
Ready in: 15 to 30 mins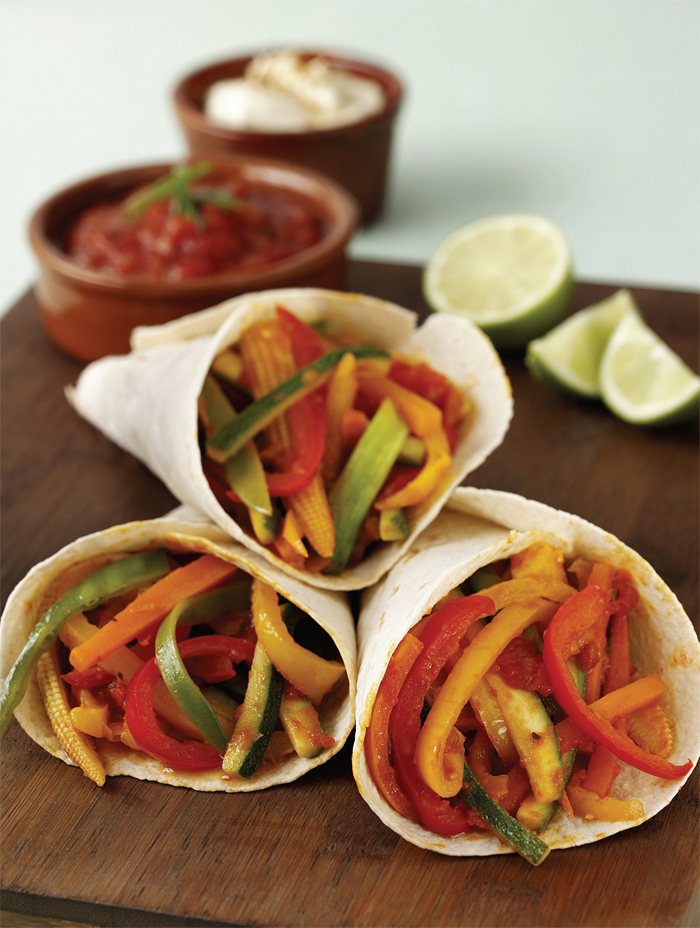 Ingredients:
2 tbsp sunflower oil
1 carrot, cut into matchsticks
1 red pepper, deseeded and sliced
1 orange or yellow pepper, deseeded and sliced
100g baby corn, halved
1 courgette, cut into strips
4 spring onions, cut into 5cm lengths
100g mange tout, halved lengthways
2 tbsp Kikkoman soy sauce
4 tbsp tomato pasta sauce or passata
8 flour tortillas
[hd]to serve[/hd]
tomato salsa
soured cream
method:
Heat the oil in a wok or large frying pan, add the chopped carrots and stir-fry over a high heat for two minutes. Add the sliced peppers, stir-fry for two minutes, then add the prepared baby corn, courgette, spring onions and mange tout and stir-fry for a further two minutes.
Stir in the soy sauce and pasta sauce and cook for one minute, combining well so that the vegetables are coated and the sauces are heated through. Transfer the vegetables to a serving dish.
Warm the tortillas according to the packet instructions, or make your own using our step-bystep opposite! Once heated, pile the tortillas on a serving plate and keep them covered with a clean tea towel or napkin so they stay warm and soft.
Invite your guests to fill their own fajitas – spoon some of the vegetables onto a warm tortilla, top with salsa and soured cream and roll up.
Print Recipe
www.kikkoman.co.uk
Did you make this recipe?
Share your creations by tagging @livegreenandgood on Instagram with the hashtag #livegreenandgood