Squoodle Bolognese with Basil & Pine Nut Drizzle
Ready in: 30 to 60 mins
You've likely heard of courgette noodles, but have every considered a butternut squash version?! This gluten-free and vegan spaghetti 'Bolognese' dish does just that with delicious results!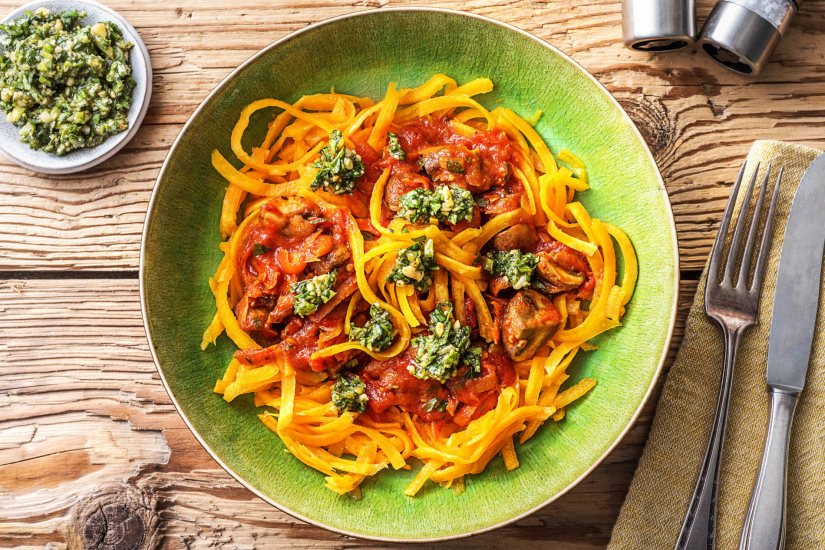 Ingredients:
25g pine nuts
1 onion, peeled, halved and roughly chopped
1 carrot, top and bottom removed, coarsely grated
1 small punnet chestnut mushrooms, quartered
1 garlic clove, peeled and grated
1 sachet Worcester sauce
1 x tin chopped tomatoes with garlic and onion
1 x red wine stock pot
50ml water
1 bunch of basil, roughly chopped, stalks and all
350g butternut squash noodles
method:
Put a frying pan on a high heat and add the pine nuts (without oil). Toast for a couple of minutes until golden, shaking the pan to stop them from burning. Remove the pan from the heat and tip the pine nuts into a small bowl.
Return the frying pan to a medium heat with a drizzle of oil. Add the onion and mushrooms and cook, stirring, until soft; 4-5 mins. Add the Worcester sauce, reduce by half, then add the finely chopped tomatoes, stock pot and water. Bring everything to the boil, stirring to dissolve the stock pot. Lower the heat to medium and stir in the carrot. Simmer until thick and tomatoey; 10-12 mins.
Put a large saucepan of water with a pinch of salt on to boil for the squoodles. Pop the toasted pine nuts into a freezer bag and bash them with the base of a saucepan. Return them to the bowl and add half of the chopped basil. Gradually stir in a little olive oil, until you have a thick drizzling consistency.
When your 'Bolognese' is nearly ready, and the water is boiling, add the butternut squash noodles to the water and cook until tender; 2-3 mins. When cooked, drain the noodles into a colander, then return to the saucepan and season with salt and plenty of pepper. Stir through half of the drizzle.
Stir the remaining basil through the bolognese. Taste and add salt and pepper to season, if necessary.
Serve the butternut squash noodles in bowls topped with a helping of 'Bolognese'. Finish with the remaining basil and pine nut drizzle. Enjoy!
Print Recipe
www.hellofresh.co.uk/
Did you make this recipe?
Share your creations by tagging @livegreenandgood on Instagram with the hashtag #livegreenandgood