Spicy Peanut Butter Burger
Serves: 2
Ready in: 30 to 60 mins
With juicy, coarsely-ground plant proteins and Fry's signature barbeque seasoning, the Big Fry Burger looks, sizzles, and tastes just like a beef burger. It's also got a whopping 20g of protein per 112g patty. Use it as the base for your favourite vegan burger recipe, or try this recipe featuring a punchy kimchi sauce and peanut butter.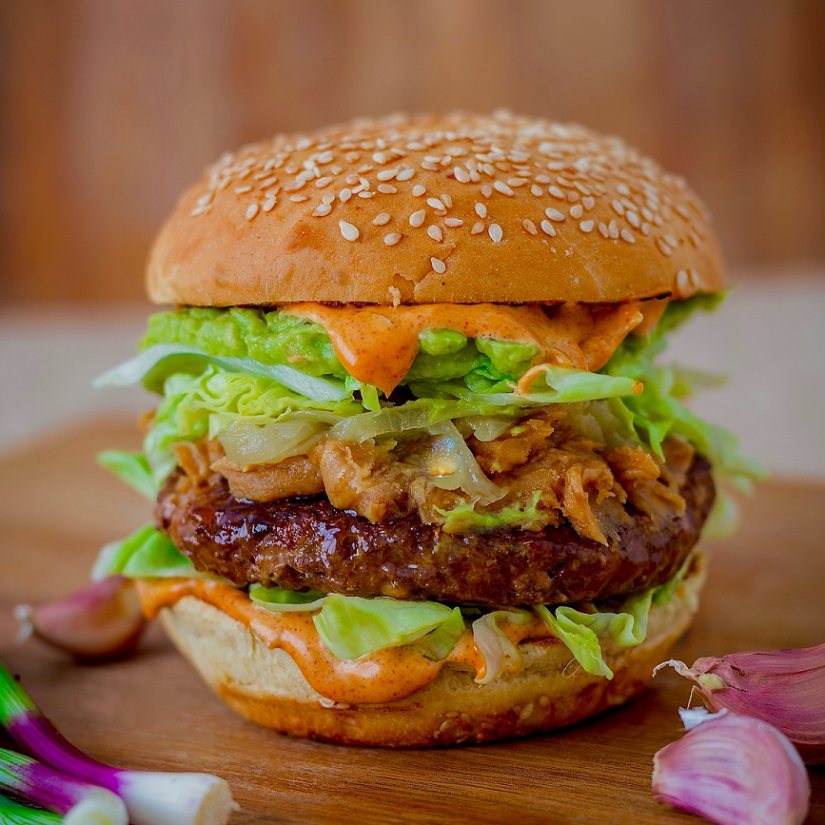 Ingredients:
2 Big Fry Burgers, defrosted
30ml oil, for the burgers
1 tbsp oil, for the onions
1 large onion, peeled
a pinch of salt
a pinch of sugar
water, as needed
4 tbsp peanut butter
1 avocado, peeled, pitted and mashed
1 large lettuce head, cleaned and shredded
2 fresh buns, toasted
For the kimchi sauce:
3 garlic cloves, peeled and finely diced
½ inch piece fresh ginger root, peeled and finely diced
3 spring onions, peeled and finely diced
1 tbsp sesame oil
2-4 tsp chilli powder (depending on spice/heat preference)
1 tsp sugar
1/2 cup vegan mayonnaise
method:
Start by making the caramelised onions. Cut the peeled onion in half, then slice to your desired thickness. In a large skillet over medium-low heat, heat the olive oil. Add the onion, stirring to coat in the oil, and continue to cook on medium-low heat.
After 7-8 minutes, add salt and sugar and continue to cook, stirring every few minutes. Keep the heat low, and add water as needed, to keep the onions from drying out. Continue to cook for 30 minutes or more, until the onions are a rich caramel colour.
Now make the kimchi sauce by whisking together all of the kimchi sauce ingredients in a small bowl.
To cook the burgers, heat 30ml of oil on high in a non-stick pan. Add the defrosted Big Fry Burgers and reduce the heat to medium. Fry for nine minutes, turning occasionally.
To assemble the burgers, spread the kimchi sauce on toasted buns. Top with lettuce, then the Big Fry Burger patty. Add two tablespoons of peanut butter to each burger patty, top with a generous amount of caramelized onions. Add more lettuce, a few tablespoons of mashed avocado, and several tablespoons of kimchi sauce, place the bun on top, and enjoy!
Print Recipe
www.fryfamilyfood.com/uk/
Did you make this recipe?
Share your creations by tagging @livegreenandgood on Instagram with the hashtag #livegreenandgood