Spicy Enchiladas
Serves: 2
Ready in: 30 to 60 mins
Know your nutrients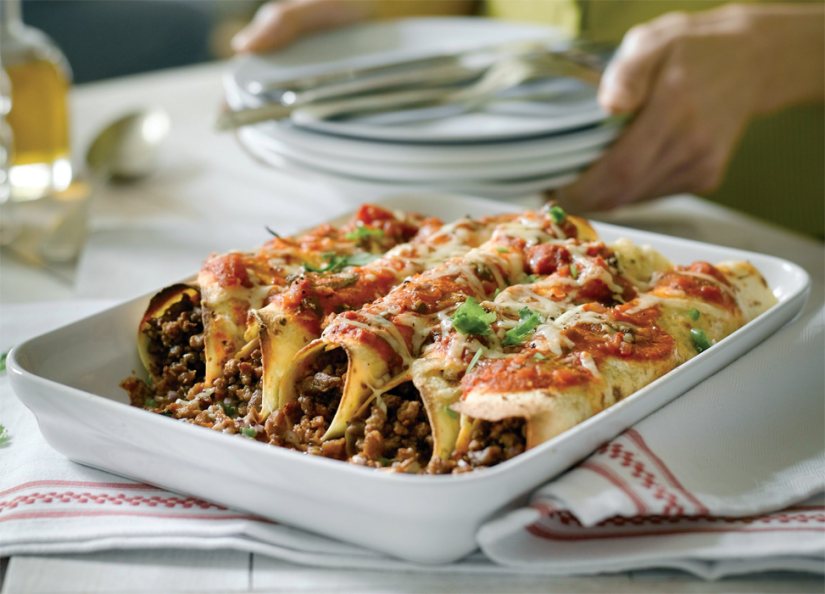 Ingredients:
400g canned chopped tomatoes
150ml tomato juice
50g tomato purée
1 large red onion, finely chopped
half tsp ground cumin
half tsp dried or frozen oregano
2 mild green chillies, seeded and finely chopped
2 tbsp lemon juice
pinch unrefined sugar
2 tbsp fresh coriander, chopped
1-2 tbsp vegetable oil
150g Linda McCartney vegetarian mince
150g mature veggie cheddar, grated
4 soft corn tortillas
method:
Preheat the oven to 180C/350F/Gas 4. To make the tomato sauce, place the chopped tomatoes, tomato juice and purée in a medium saucepan. Add half of the red onion, plus the cumin, oregano, chillies, lemon juice, sugar and coriander.
Bring to the boil, reduce the heat and simmer for 15 minutes, stirring occasionally. Heat the oil in a small frying pan and sauté the mince for a few minutes until lightly browned. Keep to one side.
Spread 4-6 tbsp of the tomato sauce into the base of an oblong, ovenproof dish. Spread one of the tortillas with 2 tbsp sauce, sprinkle with cheese, top with 1/4 of the mince and sprinkle with chopped red onion (but reserve some cheese and onion for garnishing).
Roll up into a tube. Place in the dish on top of the sauce, seam-side down. Repeat with the other tortillas and spoon over the remaining sauce. Sprinkle with the reserved cheese and the chopped onion.
Bake for 15-20 mins until the cheese is bubbling and starting to brown.
Print Recipe
www.lindamccartneyfoods.co.uk
Did you make this recipe?
Share your creations by tagging @livegreenandgood on Instagram with the hashtag #livegreenandgood