Simon Rimmer's Rhubarb Crumble Pie
Serves: 6
Ready in: 30 to 60 mins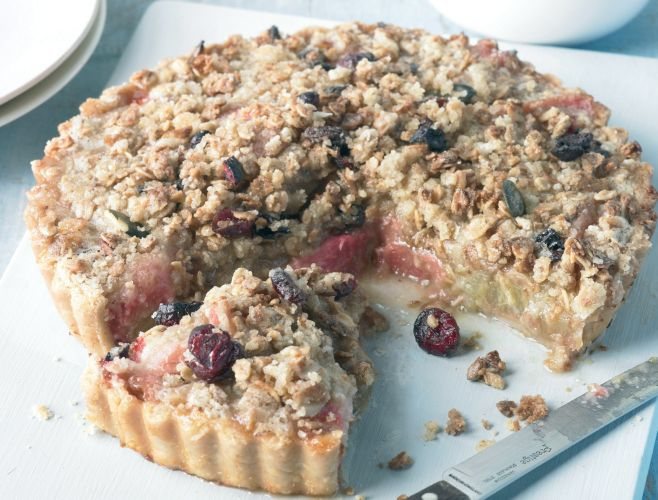 Ingredients:
[hd]For the pastry[/hd]
225g flour
100g butter
25g sugar
1 free-range egg
a little milk, to bind
free-range egg wash, for brushing

[hd]For the filling[/hd]
250g rhubarb, chopped
pinch ground star anise
pinch ground ginger
150g sugar
juice of 1 orange

[hd[For the topping[/hd[
100g flour
100g Demerara sugar
100g Nature's Pleasure Raspberry & Cherry
150g butter
pinch of ground cinnamon
method:
For the pastry: pulse together the pastry ingredients in a blender, and then roll out. Line a 20cm baking tin, chill for 2 hours. Bake blind at 200ºC/400ºC/Gas Mark 6 for 15-20 minutes and then brush with the egg wash and cook for an extra 5 minutes.
Now make the filling. Put the rhubarb, spices, sugar and orange juice in a pan and cook until just soft. Spoon into the pastry case.
To make the crumble topping, rub all the topping ingredients together, spoon on top of the fruit filling and bake at 180ºC/350ºF/Gas Mark 4 for 12 minutes.
Print Recipe
www.kelloggs.co.uk
Did you make this recipe?
Share your creations by tagging @livegreenandgood on Instagram with the hashtag #livegreenandgood