Roasted Squash and Red Pepper Soup
Serves: 4
Ready in: 30 to 60 mins
Eco Friendly Freezes Well Vegan Friendly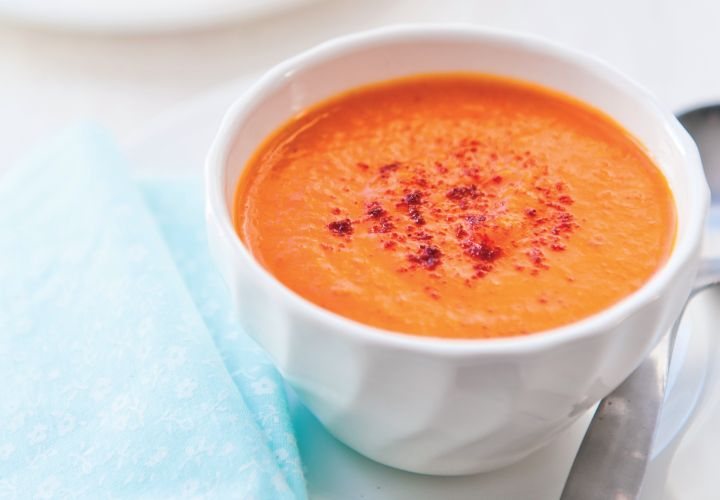 Ingredients:
1 large butternut squash, peeled, deseeded and cut into chunks
1 large onion, cut into eight pieces
2 tbsp olive oil
2 large garlic cloves, peeled
1 cm piece root ginger, chopped
1 tsp smoked paprika, plus extra
4 red peppers, quartered
375ml Kallo Unsweetened Soya Milk
500ml vegan vegetable stock
sea salt and black pepper
method:
Heat oven to 220C/425F/Gas 7. Put the squash and onion in a baking tray, drizzle over the oil and bake for 20 mins. Then add the garlic and ginger, the smoked paprika and bake for another ten mins, until the squash is tender. Remove from oven.
Preheat the grill to high. Put the peppers, skin side up, on the grill rack. Cook for 4-5 mins until the skin has blackened. Remove from the heat, leave to cool a little, then remove and discard the skins.
Transfer the squash, onion, garlic, ginger and peppers to a food processor, pour in the stock and soya milk and season. Blend until smooth, adding a little more stock and soya milk if the soup is too thick. Pour into a saucepan and heat gently over a medium-low heat until just bubbling. Serve with extra paprika.
Print Recipe
www.kallofoods.com
Did you make this recipe?
Share your creations by tagging @livegreenandgood on Instagram with the hashtag #livegreenandgood