Roasted Shallot, Beetroot, Puy Lentil and Spinach Salad with Vegetarian Soft Goat's Cheese
Serves: 4
Ready in: 15 to 30 mins
Eco Friendly Gluten Free‏ Quick Make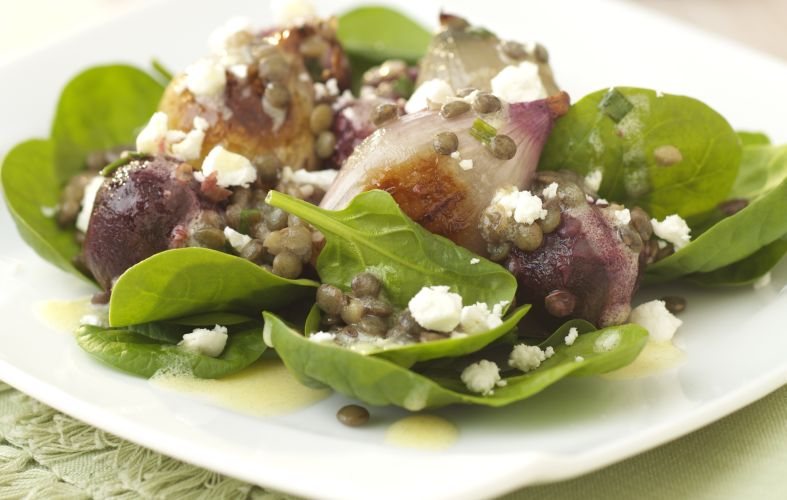 Ingredients:
12 shallots, peeled
2 tbsp rapeseed oil
sea salt & freshly ground black pepper
250g cooked baby beetroot
1 tbsp runny honey
400g tin of puy lentils, rinsed and drained
150g baby spinach leaves
200g vegetarian soft goat's cheese
1 tsp fresh flat leaf parsley, chopped

[hd]For the dressing[/hd]
1 garlic clove, peeled and finely chopped
1 tbsp fresh chives, chopped
5 tbsp rapeseed oil
2 tsp Dijon mustard
2 tsp cider vinegar
sea salt and freshly ground black pepper
method:
Before you start, preheat the oven to 190C/375F/Gas 5.
Put the shallots in the roasting tin, drizzle with the rapeseed oil, toss well and season with salt and pepper. Roast for around 15 minutes in the oven, then add the beetroot, drizzle with honey and toss well with the shallots. Roast for a further 10 minutes, or until the shallots are soft.
Meanwhile, make the dressing by mixing all the ingredients together in a bowl.
When ready, remove the shallots and beetroot from the oven and mix with the lentils and half the dressing while still warm. Leave to cool.
Print Recipe
www.lovebeetroot.co.uk
Did you make this recipe?
Share your creations by tagging @livegreenandgood on Instagram with the hashtag #livegreenandgood