Rhubarb Brulee Cheesecake
Serves: 10
Cost Cutting Eco Friendly Freezes Well
This lively little number is a sweet and sour treat baked with just the right amount of bite. Enjoy!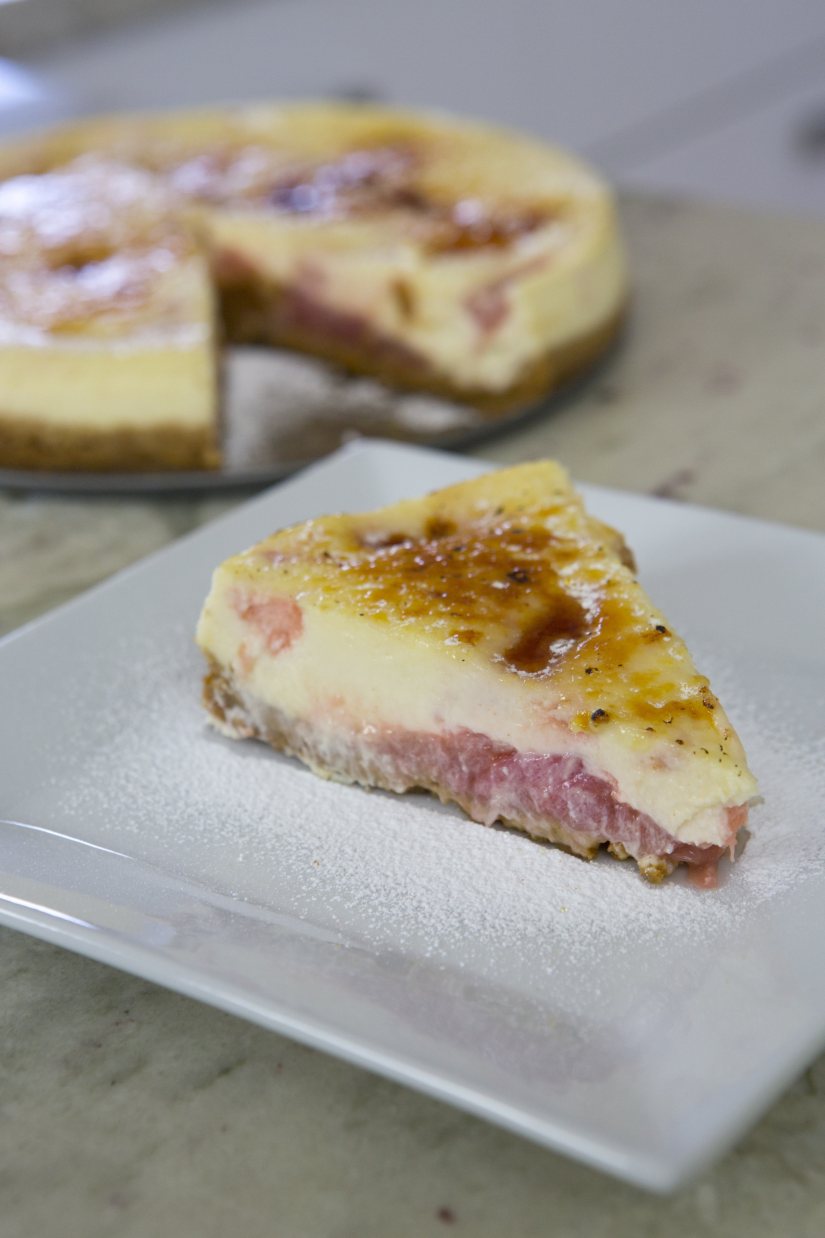 Ingredients:
250g gingernut biscuits
80g unsalted butter
400g rhubarb cut into 4cm pieces
15g unsalted butter
30g golden caster sugar
1 tbs Amaretto (optional)
½ tsp ground cinnamon
400g cream cheese
100ml sour cream
120g caster sugar
1 tsp vanilla extract
4 medium free-range eggs
20g icing sugar
Bacofoil Easy Bake Non-Stick paper
Bacofoil Non-Stick foil
method:
Using a food processor break down the biscuits to fine crumb, add to a bowl and mix in the melted butter until fully incorporated.
Place the mixture into a lined 24cm loose bottomed spring form cake tin lined with Bacofoil Easy Bake Non-Stick paper, compress down and push some of the biscuit up the sides of the tin, this will hold the rhubarb in place, chill in the fridge for 20 minutes.
Take a large piece of Bacofoil Non-Stick foil, double it up then wrap this around the base of the tin then bring up the sides to make a waterproof seal.
Melt the butter to a pan, then the rhubarb, sugar, amaretto and cinnamon cook gently for around 6-7 minutes or until rhubarb is tender but still holding its shape. Drain off any excess liquid and reserve then leave to cool before pouring over the base and smoothing into an even layer.
Place the cream cheese, sugar, vanilla extract and eggs into a bowl then mix using a hand whisk until fully combined. Pour this mixture into the cake tin then bake in a bain marie in a preheated oven set at 160c / gas mark 2 for around 55-60 minutes, the centre should have a slight wobble. Leave to stand for 20 minutes before carefully removing from the tin and transferring to a serving plate, chill in the fridge.
To serve, cut the cheesecake into portions, dust with icing sugar and caramelize the top with a cook's blowtorch. You can drizzle with some of the reserved rhubarb syrup if desired.
Print Recipe
www.bacofoil.co.uk/
Did you make this recipe?
Share your creations by tagging @livegreenandgood on Instagram with the hashtag #livegreenandgood