Raspberry Tofu Cheesecake
Serves: 6
Ready in: 15 to 30 mins
Eco Friendly Freezes Well Gluten Free‏ Quick Make Vegan Friendly
Know your nutrients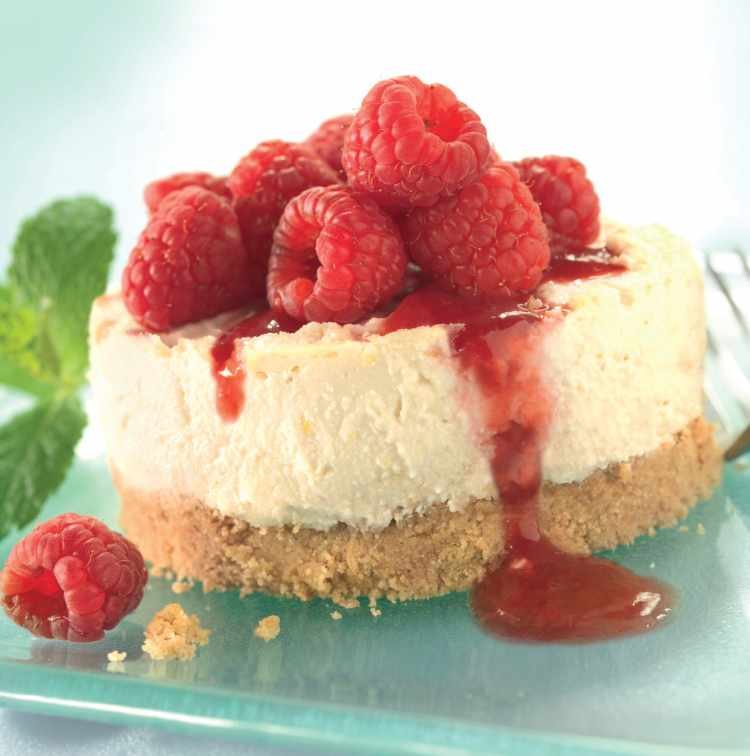 Ingredients:
1 block Cauldron Tofu, drained and pressed well to remove excess water
200g vegan biscuits of your choice
70g vegetable fat spread, melted
250ml carton of soya cream
40g sugar
1 tsp vanilla essence
10g vegan gelatine substitute
finely grated zest of 2 lemons
1 punnet of raspberries
1 tbsp lemon juice
1 tbsp icing sugar (or to taste)
method:
Preheat the oven to 170C/325F/Gas 3). Crush the biscuits and add the melted spread, mix well and turn into six individual rings (or one large loose-bottomed tin). Place on a baking tray and bake in the oven for five minutes.
Meanwhile blend the tofu, soya cream, sugar, vanilla, vegan gelatine substitute and lemon zest together in a food blender until smooth. Pour over the biscuit base and bake for 10 minutes. When cooled, chill in the refrigerator until set.
While the cheesecake is cooling make the raspberry coulis. In a small blender or food processor add 50g raspberries from the punnet, the lemon juice and sugar. Blend for one minute and pass through a fine sieve to remove the seeds.
When you are ready to serve, run a knife around the inside of the cake tins and carefully turn out the cheesecakes. Place the remaining whole raspberries on top of the cheesecakes and drizzle over the raspberry coulis.
Print Recipe
www.cauldronfoods.co.uk
Did you make this recipe?
Share your creations by tagging @livegreenandgood on Instagram with the hashtag #livegreenandgood