Puff Pastry
Serves: 30
Ready in: 60 mins +
Cost Cutting Eco Friendly Freezes Well
Here's the only puff pastry recipe you need. It makes approx 2 x 600g blocks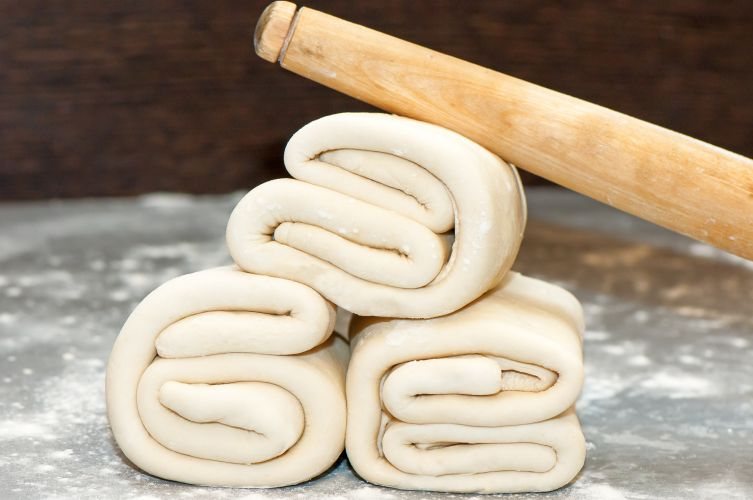 Ingredients:
500g plain flour
5g salt
500g good quality unsalted butter
250ml ice cold filtered or natural spring water
method:
Cut the butter in small cubes, let them come to room temperature,but not too soft and warm. Weigh the flour in to a large mixing bowl. Add the salt and butter, gently rub the butter with your finger tips in to the flour, until it represents large buttery crumbs. Make a well in the middle of the pastry and add half of the ice cold water. Gently work the water in to the flour add more water until a dough forms, do not kneed the pastry. It does not matter if you can still see flakes of butter.
Turn the pastry on to a lightly floured work surface. At this stage I divide the pastry in half as I find it easier to work and reduces the possibility of overworking the pastry. Roll each piece of pastry out, away from yourself in one direction only, to form a rectangle approximate 10cmx20cm. Fold the pastry ends over to form three folds. This represents the first turn. Repeat the rolling process as before and fold the ends over to form again three folds. Now I make two indents with your fingers, place the pastry in a plastic bag and refrigerate for 30 minutes.
Once the pastry has rested follow the rolling and folding process twice more turning the pastry clockwise. Now mark the pastry with four indents with your fingers, this is a clear indication that your pastry is now ready to be used. Wrap the pieces of pastry separately and refrigerate for 30 minutes before using. At this stage I normally freeze the pieces that I will not require at that time.
When rolling your pastry out for using in a recipe always roll away from yourself in one direction only, work quick on a lightly floured surface. You can reuse the off cuts but do remember not to squash them together, always fold them over and follow the folding and rolling rules.
Print Recipe
www.britishlarder.co.uk
Did you make this recipe?
Share your creations by tagging @livegreenandgood on Instagram with the hashtag #livegreenandgood