Potato, Feta and Watercress Pastries
Serves: 18
Ready in: 30 to 60 mins
Got friends coming over? These look impressive and taste great, but they're an absolute breeze to make.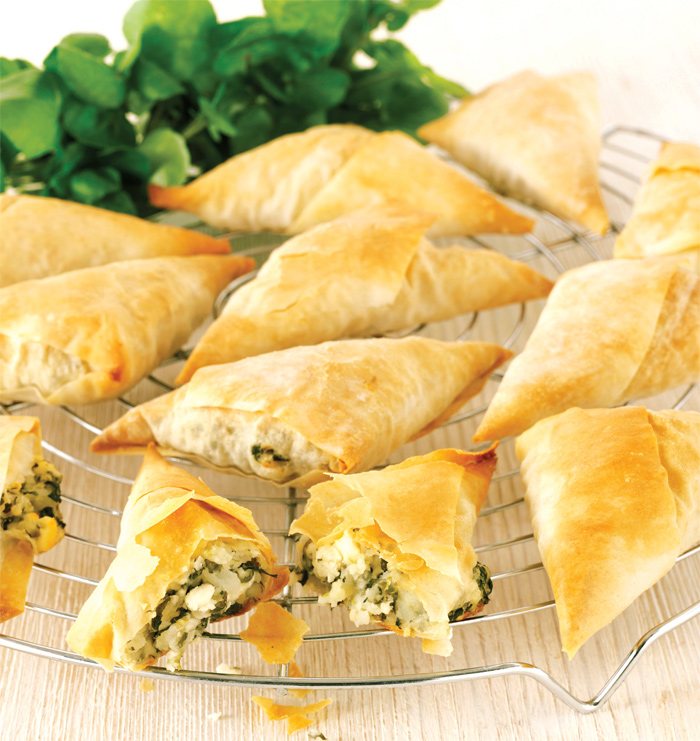 Ingredients:
450g potatoes, peeled and chopped
85g bag watercress, roughly chopped
1 tbsp chopped fresh mint
200g feta cheese, drained and crumbled
10 sheets filo pastry
4 tbsp olive oil
salt and freshly ground black pepper
method:
Cook the potatoes in boiling water until just tender – about 15 minutes. Drain thoroughly then 'dry' in the saucepan over gentle heat. Roughly mash, stir in the watercress and leave to cool. Stir in the feta and mint and season with salt and pepper.
Work with one sheet of pastry at a time, covering the others with cling film and a damp tea towel. Brush the pastry with olive oil on one side and cut into three long strips.
Preheat the oven to 200C/Fan180C/Gas Mark 6. Place a spoonful of the filling at one end of a pastry strip. Fold the corner of the pastry over the filling so that the top edge of the pastry is now over the right edge. Take the point of the strip and fold this down towards the bottom of the pastry to create triangle shapes. Continue folding in this way and brush with any remaining oil. Repeat to make 17 more triangles in the same way.
Place the pastries on a baking sheet and bake for 20 minutes or until crisp and golden. Serve them fresh and warm from the oven.
Print Recipe
www.watercress.co.uk
Did you make this recipe?
Share your creations by tagging @livegreenandgood on Instagram with the hashtag #livegreenandgood