Ping Coombes' Soy Caramel Ice Cream
Serves: 4
Cost Cutting Freezes Well Quick Make
Cool down with Ping Coombes' tangy twist on ice cream – prepare to be amazed!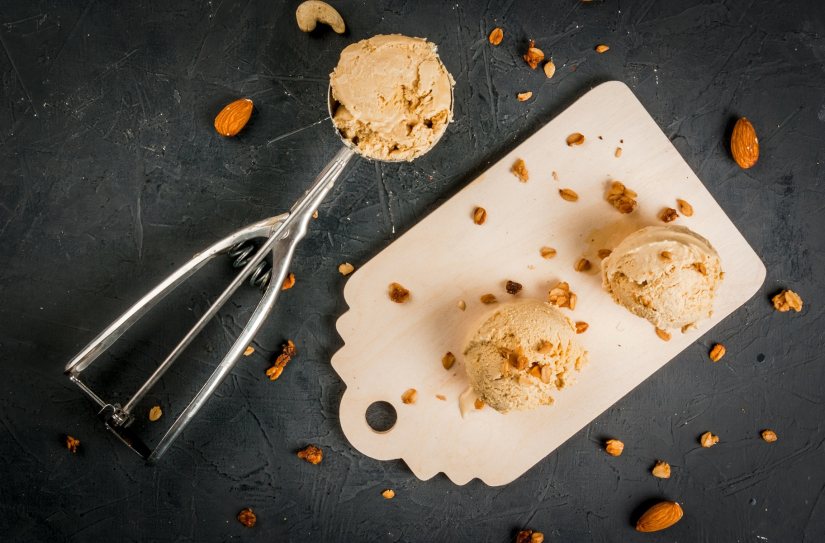 Ingredients:
For the soy caramel:
180g caster sugar
310ml cream
25ml Lee Kum Kee Premium Light Soy Sauce
5ml vanilla extract
For the custard:
400ml full fat milk
100ml cream
40g caster sugar
3 large free-range eggs
method:
First, make the soy caramel by putting the caster sugar in a stainless steel pan. Give the pan a little shake to make sure the sugar is evenly distributed. Place a pan on a medium heat.
The sugar will start to melt and caramelise. Swirl the pan so the sugar melts evenly. It will be ready once it reaches an amber-brown colour.
At this stage, pour in the cream. It will splutter and the sugar will solidify, but continue to stir until all the sugars are melted into the cream, creating a creamy brown liquid.
Remove from the heat and sieve into a mixing bowl. Stir in the Premium Light Soy Sauce and vanilla extract. Cool completely.
To make the custard, heat milk and cream in a pan on low heat until just boiling. In the meantime, lightly whisk the eggs and sugar in a mixing bowl until combined.
Pour the warm milk mixture at a height bit by bit into the egg mixture and whisk constantly. Pour the mixture back into the pan and back on the hob on a medium heat. Stir constantly with a wooden spoon until the mixture thickens and coats the back of the spoon. Do not let the mixture boil.
Sieve the custard into a bowl and mix in the cooled soy caramel, cool and chill in the fridge for three to six hours. Using a mixer or stirring vigorously, churn the ice cream, transfer to a container and freeze overnight to firm up.
Print Recipe
Did you make this recipe?
Share your creations by tagging @livegreenandgood on Instagram with the hashtag #livegreenandgood