Orecchiette with Pumpkin Seed Pesto and Tenderstem Broccoli
Serves: 2
Ready in: 15 to 30 mins
This fresh, vibrant and delicious Italian-inspired pasta dish is both comforting and hearty. It's ideal for al fresco dinners, entertaining, picnics or even as a packed lunch! This recipe was developed by food influencer, Happy Skin Kitchen.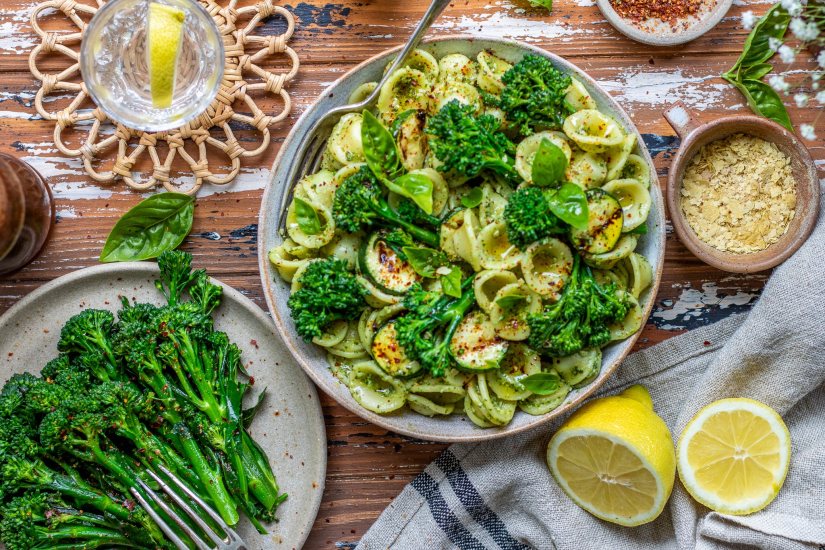 Ingredients:
25g pumpkin seeds
1 large handful of basil leaves
2 tbsp nutritional yeast
freshly squeezed juice of 1 lemon
1-2 cloves garlic
a pinch of salt
3-4 tbsp extra virgin olive oil
For the pasta:
2 tbsp extra virgin olive oil
1 courgette, cut into thick slices
200g Tenderstem broccoli
250g dried orecchiette pasta
a sprinkle of chilli flakes (optional)
method:
Start by making the pesto: simply place all of the pesto ingredients into a food processor, and blitz for a couple of minutes, until you have a smooth mixture. Add a splash of water if required to loosen the pesto. Set to one side.
Grill the courgette slices in a griddle pan, cooking on each side for 1-2 minutes. In a separate pan, add a tablespoon of olive oil and once hot, add in the Tenderstem broccoli. Sprinkle with a pinch of salt, put the lid on, and cook for about five minutes.
Meanwhile, cook the pasta according to the packet instructions.
Once the pasta is cooked, drain it and mix it straight away with the pesto. Add the grilled courgette and broccoli, then mix everything together. Serve with a drizzle of extra virgin olive and a sprinkle of chilli flakes.
Print Recipe
www.tenderstem.co.uk/
Did you make this recipe?
Share your creations by tagging @livegreenandgood on Instagram with the hashtag #livegreenandgood