No-bake Blueberry Cheesecake
Serves: 10
Ready in: 60 mins +
If you thought that desserts like cheesecake were off the cards as a vegan then think again! This vegan cheesecake recipe, created by So Vegan for Elmlea, is wonderfully easy to make, using cashews to create a creamy texture for the filling. Just be sure to plan ahead of time, as this does require a few hours of chilling.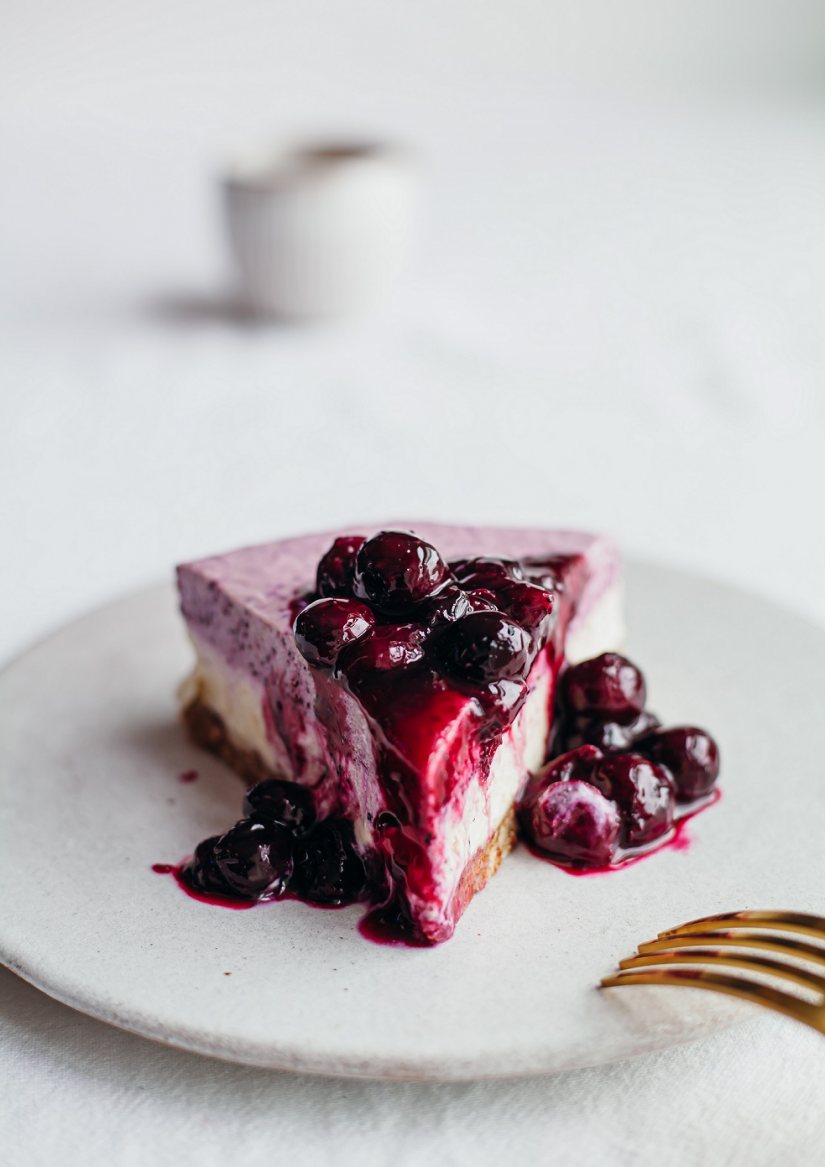 Ingredients:
For the filling:
200g cashews
1 tbsp vanilla extract
270ml Elmlea Plant Double
1 lemon
4 tbsp maple syrup
2 tbsp coconut oil
300g fresh blueberries
For the base:
5 dates
120g almonds
80g walnuts
2 tbsp coconut oil
For the compote:
300g blueberries
2 tbsp caster sugar
1/2 tbsp cornflour
method:
Transfer the cashews to a large mixing bowl and cover with hot water from a kettle. Leave to soften for at least 30 minutes. Line the base of a 20cm round loose-bottomed cake tin with baking paper.
For the base, remove the stones from the dates then add them to a food processor along with the almonds and walnuts. Then transfer the coconut oil to a small bowl, melt in the microwave and add it to the food processor. Process the base ingredients until fine and they hold together in your hands. Transfer the mixture to the prepared cake tin and use your fingers to spread it out evenly across the base, pushing down to compact the mixture.
Drain the cashews and add them to a blender along with the vanilla extract, Elmlea Plant Double, zest from the whole lemon, juice from half of the lemon and maple syrup. Again, melt the coconut oil in the microwave then add it to the blender. Blend until smooth, then pour 2/3 of the mixture over the nut base. Place the cheesecake in the freezer for two hours, or until the filling layer is firm.
Once you're ready to add the blueberry layer, blend the remaining cheesecake mixture with the blueberries until smooth. Pour the blueberry layer over the cheesecake and transfer the cheesecake to the freezer for a minimum of two hours, or overnight.
When you're ready to serve the cheesecake, remove it from the freezer and leave it to sit on a worktop for 20-30 minutes to soften slightly.
Meanwhile, to prepare the blueberry compote, add the blueberries to a saucepan on a low-medium heat. Cook for five minutes, then stir in the sugar. Next, in a small bowl combine the cornflour with water until smooth, then stir the paste into the pan and simmer for 3-4 minutes.
Serve slices of cheesecake with a topping of blueberry compote. Delicious!
Print Recipe
www.elmlea.com/
Did you make this recipe?
Share your creations by tagging @livegreenandgood on Instagram with the hashtag #livegreenandgood