Anjum Anand's Mushroom and Bean Caldine
Serves: 4
The last time I went to Goa, I was with my family and I am forever trying to get them all to try new flavours around India. But as Goa is best known for its seafood, my husband was very hesitant to try any local fare. I found a well-regarded restaurant and ordered lots of amazing Goan vegetarian food to try to convince them all. I have to be honest, I don't think I managed it, but I did discover loads of lovely vegetarian Goan dishes that I love and have decided to keep in my life. This caldine is a mild but flavourful curry and will not overpower the vegetables.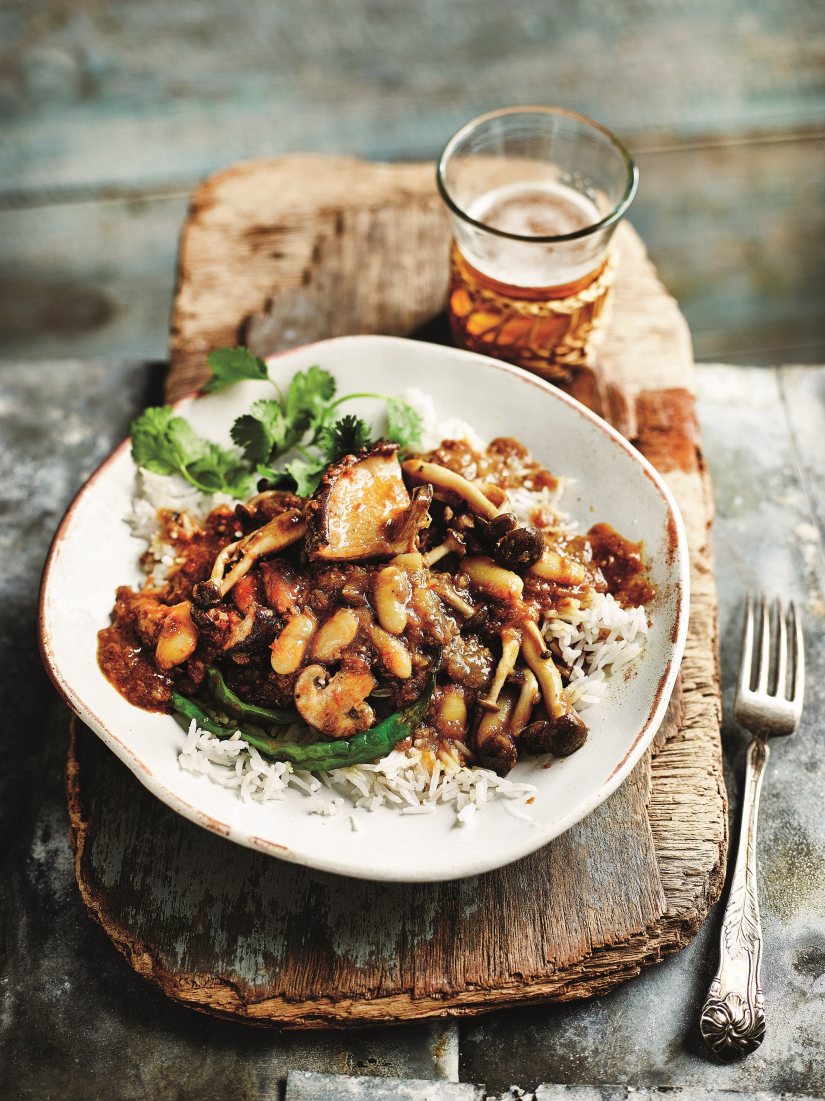 Ingredients:
For the caldine paste
2 tsp coriander seeds
1 rounded tsp cumin seeds
8 peppercorns
4 cloves
1 medium-large tomato
1⁄2 onion, quartered
5 large garlic cloves
15g roughly chopped root ginger (peeled weight)
1⁄2 tsp ground turmeric
For the dish
3 tbsp coconut or vegetable oil
1⁄2 onion, thinly sliced
Salt
450g brown chestnut mushrooms (shiitake or shimeji mushrooms are also great here), rinsed and halved
150g cooked cannellini beans
2-4 Indian green finger chillies, stalks removed, pierced with a knife
50-60g coconut cream, or to taste
1 tsp tamarind paste, or to taste
Handful of coriander, to serve
method:
Start with the caldine paste. Grind the coriander seeds, cumin, peppercorns and cloves to a fine powder. Place the tomato, the quartered half onion, garlic, ginger and turmeric in a blender and blend until smooth. Heat the oil in a non-stick saucepan. Add the sliced onion and cook over a high-ish heat until caramelized and brown on the edges. Add the spice paste and a fair amount of salt and cook for five minutes or until the masala releases oil back into the pan. Add the mushrooms and stir-fry until they release water. Continue cooking until the masala is really thick, darkened and is sticking to the mushrooms.Serves 3-4.
Add the beans, chillies and a splash of water, cover and cook for another 4-5 minutes. Add the coconut cream with as much water as you want for a creamy curry. Bring to the boil, add the tamarind, season to taste and simmer for 2-3 minutes. Serve with the coriander.
Print Recipe
Did you make this recipe?
Share your creations by tagging @livegreenandgood on Instagram with the hashtag #livegreenandgood