Mock Duck Wraps
Serves: 2
Ready in: 30 to 60 mins
Ideal for flexitarians who are looking for some meatless meal inspiration, these mock duck wraps use marinated jackfruit to recreate the popular Chinese dish with a vegan twist. Recipe extracted from Vegan(ish) by Jack Monroe (Bluebird, £16.99).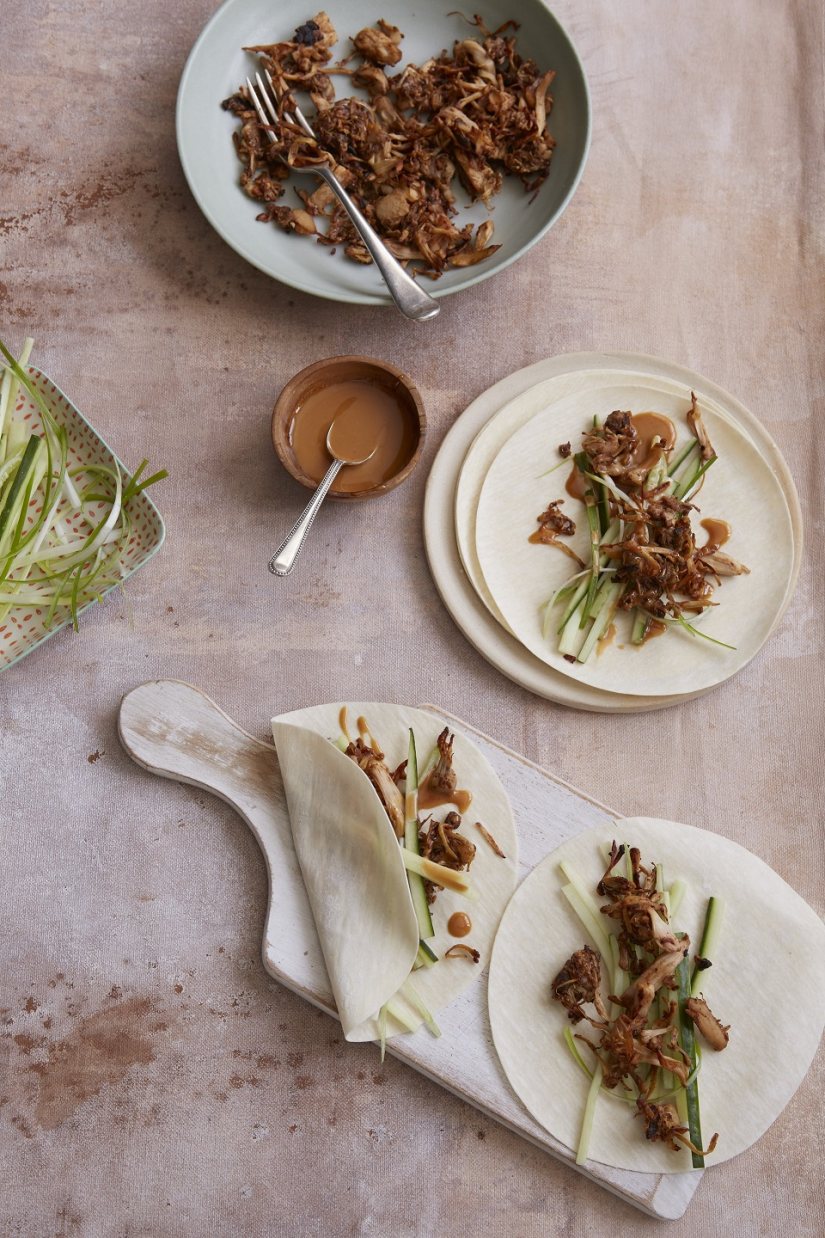 Ingredients:
1 x 400g tin jackfruit in brine
1 tsp oil (sesame is best but any will do), plus extra for frying
½ tsp Chinese five spice powder
5 tbsp hoisin (or teriyaki sauce)
2 fat garlic cloves, peeled and grated
2cm piece fresh root ginger, peeled and grated
½ tsp Szechuan peppercorns, crushed
2 tbsp vegan mayo
2 tortilla wraps (or 4-6 rice paper wraps, if available)
½ cucumber, very finely sliced into matchsticks
a couple of spring onions (or a small amount of red or white onions), very finely sliced into thin strips
method:
Drain the jackfruit and squeeze firmly between your hands over the sink to remove any excess liquid. Shred it into a mixing bowl with your fingertips, taking care to separate as much of the jackfruit as possible into small pieces.
In a small bowl, combine the oil, five spice powder and three tablespoons of hoisin or teriyaki sauce. Stir in the grated garlic, ginger and crushed peppercorns. Whisk well to combine the ingredients, then pour the mixture over the jackfruit. Mix well to coat, and allow it to marinate for an hour in the fridge. If you're in a rush, you can skip this step, but it does give a deeper, richer flavour as it permeates the whole fruit.
Add a splash of oil to a large frying pan or wok, and heat for a moment. Add the jackfruit, cook on a high heat for five minutes, then reduce the heat to low-medium and cook for a further 15 minutes, until the jackfruit has absorbed the liquid marinade and is quite dry-looking. You want it almost crispy at the edges – if in doubt, taste a piece and cook for a little longer if required.
Combine the remaining two tablespoons of hoisin or teriyaki sauce with the vegan mayo to make the sauce for the wraps. Spread over the wraps, then place the cucumber and onion strips in the centre of the wraps. Add the warm mock duck, then fold or roll up, sealing with a blob of hoisin mayo. Serve warm.
Print Recipe
cookingonabootstrap.com/
Did you make this recipe?
Share your creations by tagging @livegreenandgood on Instagram with the hashtag #livegreenandgood