Mellow September Berry Raw Cheesecake
Serves: 16
High in dietary fibre and providing a source of protein, this cheesecake provides 367 nutritional rich calories per slice. It's high in vitamin A, phosphorus, magnesium, manganese and fluoride and it's a good source of vitamin B1, potassium, zinc, iron and selenium. It's also dairy-free, gluten-free & vegan. Prep time: 1 hr 10 mins. Storage: Keep in fridge.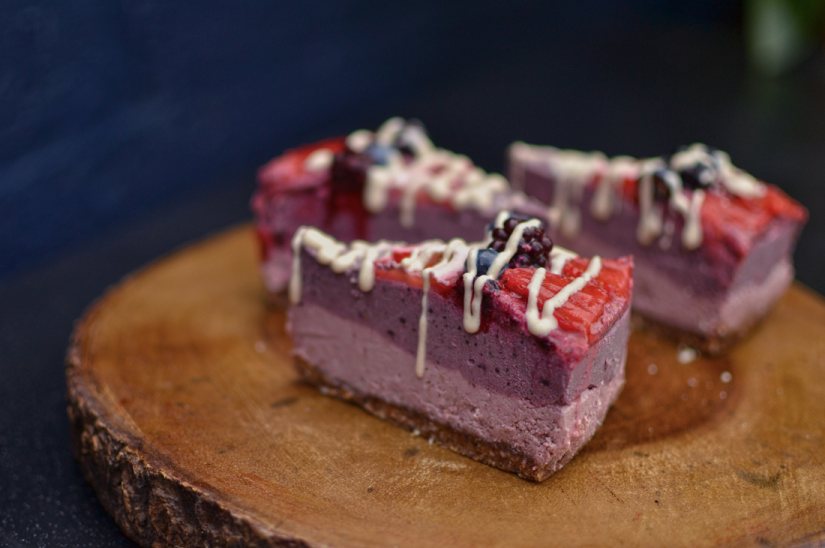 Ingredients:
For the Base:
150g unsalted almonds
100g dried dates - pitted
1 tbsp coconut oil (13g)
For the Main Filling:
400g raw unsalted cashew nuts soaked overnight in plenty of water
140g coconut oil - melted
Juice of 2 lemons (100ml)
½ tsp sea salt
100g maple syrup
100g date paste made from 80g dates soaked in water overnight then blended
Fruit Layer One:
100g fresh raspberries
3 tsp raspberry powder (9g)
Fruit Layer Two:
3 tbsp acai powder (6g)
½ ripe banana
50g blackberries or blueberries
For the Topping:
Raspberry Chia Jam:
2 tbsp chia seeds
100g fresh raspberries
1 tsp maple syrup
Cashew Cream:
1 tbsp plant milk
20g raw unsalted cashew nuts soaked overnight in plenty of water
Fresh berries to decorate
method:
The day before, soak the 400g of cashews for main filling, 20g cashews for topping and 80g of the dates separately in just enough water to cover them.
Place almonds and dried dates into food processor and blitz until it forms a sort of dough that sticks together. Add the melted tbsp of coconut oil to help the blender move. Press this mixture firmly into 22cm springform cake tin and freeze for minimum 15-20 mins.
Meanwhile drain the cashews and blitz in food processor to form a paste, add the melted coconut oil and lemon juice to add liquid, then add the sea salt, maple syrup, and date paste and keep blending until everything is combined and smooth.
Now divide your main filling mix into two bowls, to mix the different coloured fruit layers.
To the first layer add the fresh raspberries and raspberry powder and blend until combined then pour this mixture over the frozen base and tap down cake tin and press hard to remove air bubbles. Use the back of a wet spoon to smooth as even as possible. Place in the freezer to harden for minimum 15 minutes whilst you make the next layer.
To the next layer add the acai powder and blue/blackberries as well as the half banana and blend until combined well. Pour this mixture over frozen other layers and smooth out the top with a cold wet spoon again. Freeze for 15 mins minimum before decorating the top.
To make the raspberry chia jam; blend 100g fresh raspberries with 2 tbsp of dried chia seeds and 1 tsp of maple syrup and blend until thick but spreadable. Use to create a 4th layer on your cake, it will set slowly over the next 20 minutes.
To make the cashew cream, drain the 20g of soaked cashew nuts and place it in the blender with 1 tbsp of plant milk and blend together until a single cream type consistency is achieved, add a dash more milk if required. This will drizzle nicely over your cake.
Return whole cake to the freezer for at least three hours or overnight.
Decorate with fresh berries before serving.
Print Recipe
www.indigo-herbs.co.uk/
Did you make this recipe?
Share your creations by tagging @livegreenandgood on Instagram with the hashtag #livegreenandgood