Melanzine Ripiene (Filled Aubergines)
Serves: 2
Gennaro says, "Filled vegetables are very common in Italy and started off as "cucina povera" (poor man's food) when housewives would make a filling with whatever they had to make the meal go further. As with all "cucina povera" dishes, they have over the decades become speciailites - this is no exception. When I was a boy, we would often have filled aubergines during the summer when this popular Mediterranean vegetable was in abundance. Nowadays, especially in England, we can enjoy aubergines all year round and I often make this dish for a midweek meal served with a mixed green salad. Bertolli with Butter is perfect in this dish as it is used not only to sauté the vegetables, but also helps to moisten and make the topping shine as it bakes in the oven."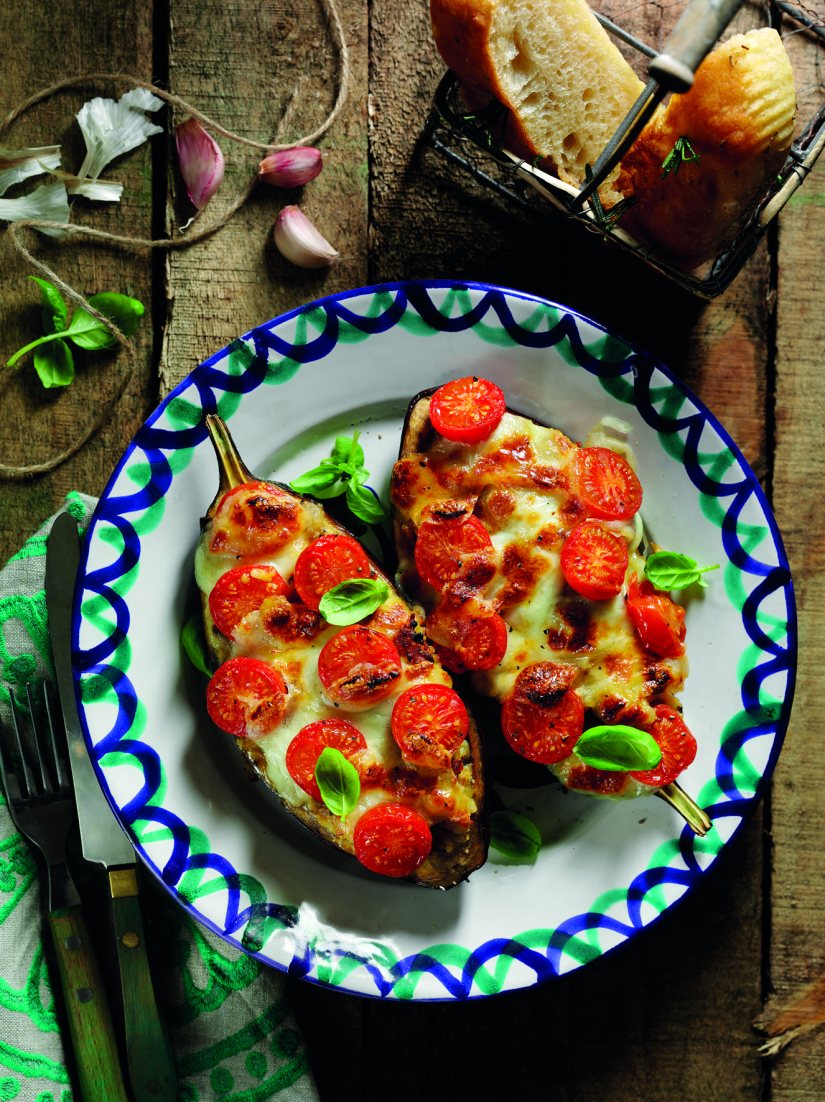 Ingredients:
2 aubergines
70g Bertolli with Butter, plus extra for greasing and doting
4 garlic cloves, finely sliced
salt and pepper
2 free-range eggs
40g grated vegetarian Parmesan-style cheese
40g breadcrumbs
100g mozzarella
large handful of basil, finely chopped and a few leaves to decorate
approx.10 cherry tomatoes, thinly sliced
1 ovenproof dish, greased with a little Bertolli with Butter
method:
Preheat the oven to 200C.
Cut the aubergines in half length-ways to make 4 halves. Make an incision with a sharp knife about 5mm in around the edge taking care not to tear the skin. Carefully remove the flesh with a spoon. Tip – to do this quickly and easily, make lines horizontally and vertically with a sharp knife and you will obtain ready-cut cubes as you gently scoop out the pulp. You'll be left with empty aubergine skin resembling boats. Take the flesh and roughly chop.
Heat Bertolli with Butter in a large frying pan, add garlic and sweat on a medium heat for a minute. Add chopped aubergine pulp, season with salt and pepper and stir fry for a minute or so until softened. Remove from the heat and allow to cool.
Break the eggs into a bowl and beat lightly mixing in grated vegetairan parmesan-style cheese. Add the cooled aubergine mixture to this together with basil, breadcrumbs and 80g of finely chopped mozzarella.
Fill the aubergine shells with the mixture. Arrange tomato slices on top. Finely chop the remaining mozzarella into thin strips and arrange these and basil slices next to the tomatoes. Dot with a little Bertolli with Butter. Cover with foil and bake in the oven for 30 minutes. Five minutes before the end of cooking time, remove the foil.
Remove from the oven, leave to rest for a couple of minutes, then serve.
Print Recipe
www.bertolli.co.uk
Did you make this recipe?
Share your creations by tagging @livegreenandgood on Instagram with the hashtag #livegreenandgood