Macaroni Cheese
Serves: 4
Ready in: 30 to 60 mins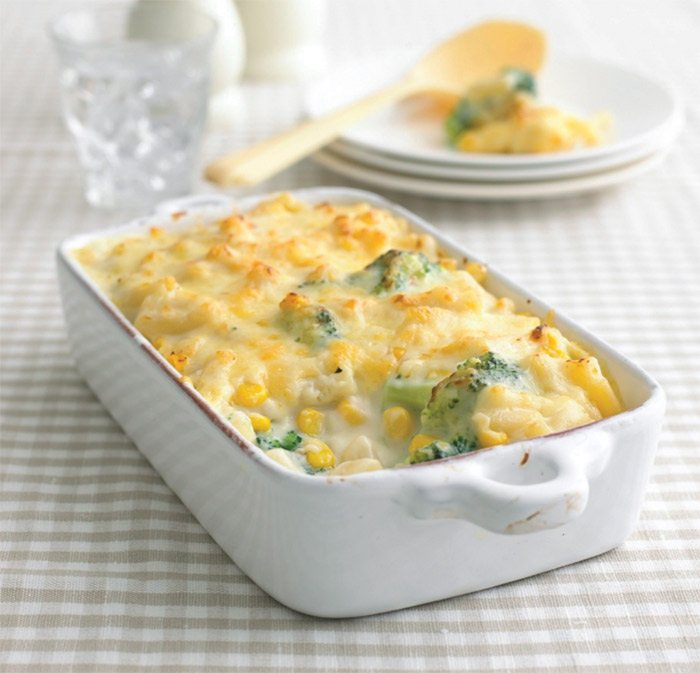 Ingredients:
200g macaroni
350g broccoli florets
340g can Green Giant Sweetcorn, drained
40g butter
40g plain flour
600mlt semi-skimmed milk, warmed
1 tsp English mustard (optional)
175g veggie cheddar cheese, grated
method:
Preheat the oven to 200C/400F/Gas 6. Cook the macaroni in a large pan salted water for five minutes, cut the broccoli into small florets add to the pan and cook for a further three minutes until the macaroni and broccoli are just tender. Drain, and turn into the ovenproof dish.
To make the sauce, melt the butter in a pan, stir in the flour and cook, stirring, over a medium heat for one minute. Remove from the heat and gradually add the milk, stirring well throughout. Return to the heat and bring to the boil, and cook, stirring, until the sauce thickens.
Remove the sauce from the heat, add the mustard (if using) and season to taste with salt and pepper. Add three quarters of the cheese, stirring until the cheese has melted.
Finally, add the tinned sweetcorn and pour into the dish, forking the sauce through the pasta and broccoli. Scatter the remaining cheese on top, then bake in the oven for 20 minutes until the dish is bubbling and the top is golden. Serve with salad or veggies, or for the ultimate indulgence, a thick, buttered slice of bread.
Print Recipe
www.jollygreengiant.co.uk
Did you make this recipe?
Share your creations by tagging @livegreenandgood on Instagram with the hashtag #livegreenandgood