Linguine with Potatoes and Broccoli
Serves: 2
Ready in: 15 to 30 mins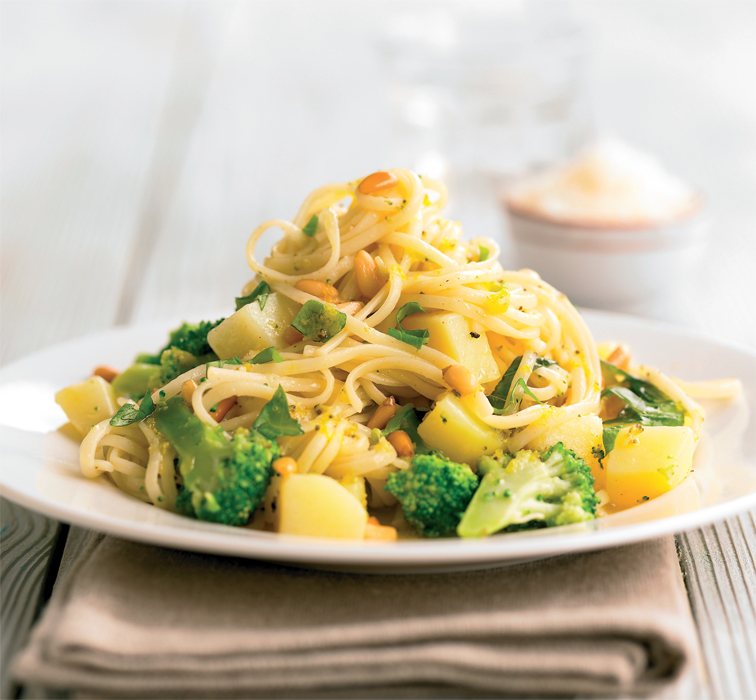 Ingredients:
grated zest and juice 1/2 large lemon
2 tbsp pinenuts
2 medium potatoes (approx 250g)
200g dried linguine
225g broccoli
5 tbsp Filippo Berio Extra Virgin Olive Oil
large handful basil leaves
grated vegetarian Parmesan-style cheese, to serve (optional – not vegan)
method:
Fry the pinenuts in 1 tbsp of the olive oil over a medium heat until golden. Set aside.
Pour the rest of the oil into a bowl, add lemon zest and juice, season and whisk together.
Cut the potatoes into 1.5cm cubes. Plunge into a large pan of boiling salted water and cook for five minutes. Meanwhile cut the broccoli into small florets and shred the basil leaves to give about 3 tbsp.
Add the pasta, stir until it is all submerged in the water and continue to boil for four minutes. Add the florets to the pan, continue to cook for 3-4 minutes by which time the potatoes and broccoli will be tender and the pasta 'al dente'.
Drain the pasta and vegetables, return to the pan, add the pinenuts, olive oil dressing and basil and toss together; don't worry if the potatoes break up a little.
Serve on warmed plates with the vegetarian Parmesan-style cheese to scatter over if liked.
Print Recipe
www.filippoberio.co.uk
Did you make this recipe?
Share your creations by tagging @livegreenandgood on Instagram with the hashtag #livegreenandgood