Individual Christmas Puddings
Serves: 8
Know your nutrients
Treat your family to a mini pudding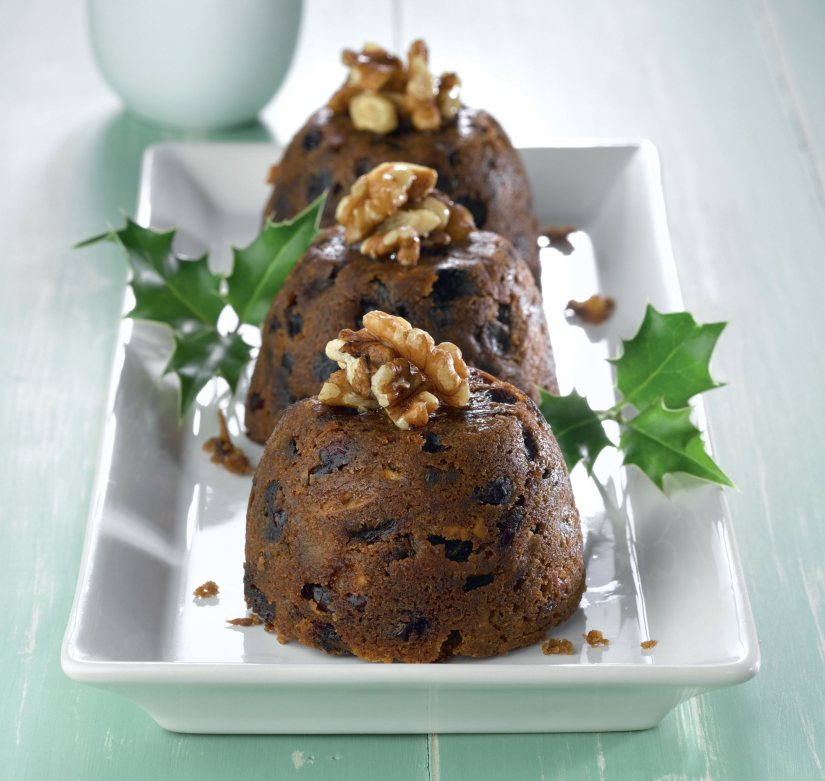 Ingredients:
150g Whitworths cranberries
150g Whitworths sultanas
150g Whitworths raisins
50g candied mixed peel
120ml dark rum
125g unsalted butter, diced
160g dark brown sugar
100g plain flour
3 tsp mixed spice
1 tbsp black treacle
2 free-range eggs, lightly beaten
1 medium cooking apple, peeled and grated
25g Whitworths flaked almonds

[hd]To decorate[/hd]
50g Whitworths walnut pieces
1 tbsp runny honey

method:
Soak the cranberries, sultanas, raisins and candied peel in the rum for 48 hours, in a covered bowl, before making the Christmas puddings.
Use 25g of the butter to grease eight small dariol/pudding moulds, place onto eight cups of a 12 cup muffin tray, leaving the four corner cups empty. If you do not have small dariol/pudding moulds, grease eight of the muffin tin cups, still leaving the four corner cups ungreased.
Preheat the oven to 180C/ 350F/Gas 4.
Beat the remaining butter until soft in a large mixing bowl and then stir in the sugar. Sift in the flour and the mixed spice and beat until evenly combined with the butter. Next add the black treacle and gradually beat in the eggs, one at a time.
Fold the alcohol-soaked fruit, the grated apple and almonds into the batter and gently mix until nice and evenly distributed.
Spoon the mixture into the eight greased dariol/pudding moulds or greased muffin tin cups, distributing evenly.
Fill the four corner cups with boiling water and carefully place the muffin tray on the bottom shelf of the preheated oven. Bake for 40 minutes.
Carefully remove the muffin tin from the oven and use a blunt knife to ease the Christmas puddings out of the muffin tin. Serve immediately.
To decorate, mix the walnut pieces with runny honey and use to top the mini puddings, then serve warm with vanilla custard, cream or brandy butter.
Print Recipe
www.whitworths.co.uk/Recipes
Did you make this recipe?
Share your creations by tagging @livegreenandgood on Instagram with the hashtag #livegreenandgood