Grilled Vegetables with Crispy Nut Topping
Serves: 4
Ready in: Under 15 Mins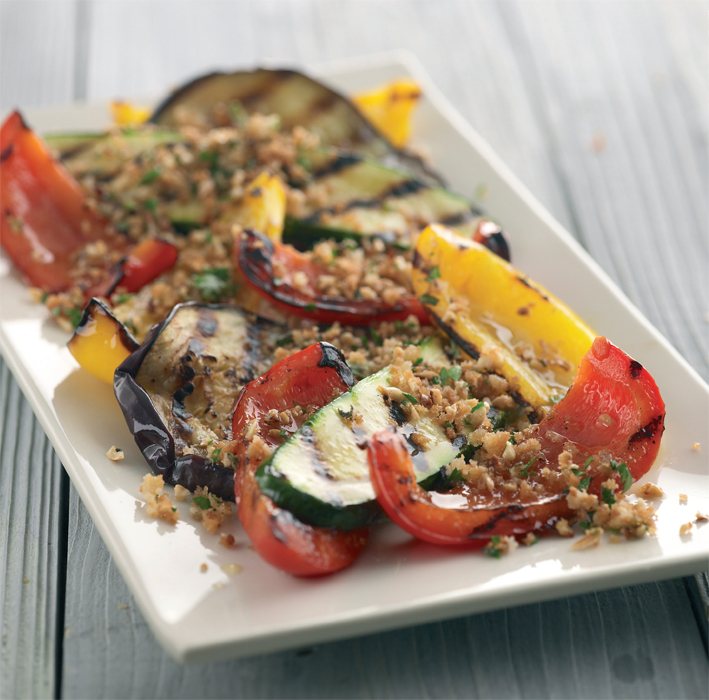 Ingredients:
8 tbsp Filippo Berio Extra Virgin Olive Oil
4 medium courgettes
1 yellow and 2 red peppers, deseeded
1 large aubergine
2 tbsp freshly chopped herbs (eg parsley, oregano)
3 tbsp Filippo Berio Olive Oil
2 garlic cloves, crushed
50g fresh breadcrumbs
50g chopped hazelnuts or peanuts
method:
Mix 5 tbsp of the extra virgin olive oil with seasoning. Cut the courgettes lengthways into thick slices, quarter the peppers, lengthways, and slice the aubergine slightly on the diagonal. Brush all with the seasoned oil.
Grill all the vegetables for 6-10 minutes on the barbecue, turning them until charred and tender, brushing with the oil. Arrange on a serving plate and drizzle over the rest of the extra virgin olive oil and scatter the herbs.
Heat the olive oil in a large frying pan, add the garlic, breadcrumbs and nuts and stir over medium heat until crisp and golden. Season, scatter over the vegetables and serve.
Print Recipe
www.filippoberio.co.uk
Did you make this recipe?
Share your creations by tagging @livegreenandgood on Instagram with the hashtag #livegreenandgood