Griddled Radish, Fennel and Asparagus Salad with a Caper Dressing
Serves: 4
Ready in: 15 to 30 mins
Eco Friendly Gluten Free‏ Quick Make Vegan Friendly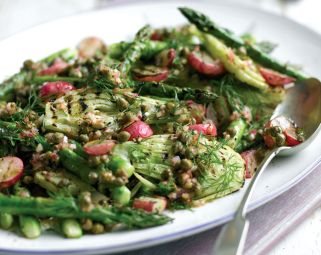 Ingredients:
[hd]For the dressing[/hd]
4 tbsp extra virgin olive oil
1 tbsp sherry vinegar
½ red onion, finely chopped
2 tbsp baby capers
salt and pepper

[hd]For the salad[/hd]
2 tbsp olive oil
150g radishes, cut in half
1 large bulb fennel, sliced
200g asparagus, trimmed
small bunch of dill, chopped, to serve
method:
Put a large griddle pan on to heat up, and meanwhile, make the dressing. In a small bowl, mix together the olive oil and sherry vinegar, then add the onion and capers, season with salt and pepper and set aside.
Lightly dress all the vegetables for the salad in olive oil. When the griddle pan is hot, grill the vegetables on both sides in a single layer, until the familiar bar marks start to appear. This usually takes a couple of minutes. You may need to do this in a couple of batches if all the vegetables do not fit in the pan at once.
Once cooked, arrange the griddled vegetables on a serving dish, season with salt and pepper, drizzle over the dressing and scatter with the chopped dill. Serve at once.
Print Recipe
www.loveradish.co.uk
Did you make this recipe?
Share your creations by tagging @livegreenandgood on Instagram with the hashtag #livegreenandgood