Fruit, Nut and Seed Bars
Serves: 12
Ready in: 30 to 60 mins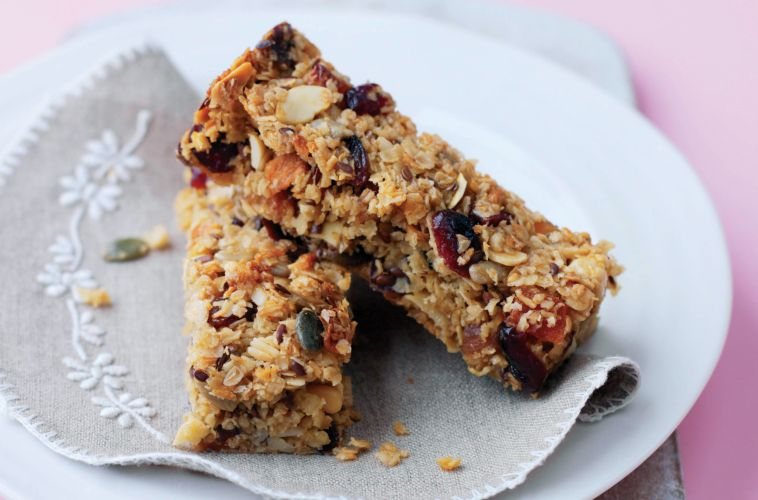 Ingredients:
175g butter, plus extra for greasing
175g set honey
6 tbsp Splenda granulated sweetener
200g porridge oats
pinch of salt
200g fruit and nut mix (dried
apricots, raisins or sultanas)
50g dried cranberries
75g mixed seeds (eg sunflower, pumpkin and linseeds)
50g dessicated coconut
method:
Start by preheating the oven to 180C/350F/Gas 4. Grease a 20cm square baking tin and line with greaseproof paper, leaving an overhang to make it easier to remove the bars later.
Melt the butter and honey in a large saucepan over a gentle heat. Bring to the boil and cook for two minutes, stirring constantly. Remove from the heat.
Mix together the sweetener, porridge oats, salt, fruit and nut mix, cranberries, mixed seeds and coconut. Add to the saucepan and stir together until thoroughly mixed. Tip into the prepared tin and level the surface with the back of a spoon.
Bake in the oven for 25-30 minutes until golden brown. Cool for 30 minutes, then remove from the tin and cut into 12 bars. Cool completely on a wire rack.
Print Recipe
www.splenda.co.uk
Did you make this recipe?
Share your creations by tagging @livegreenandgood on Instagram with the hashtag #livegreenandgood