Cyrus Todiwala's Green Palav
Serves: 4
Ready in: 30 to 60 mins
OBE Michelin-Star chef Cyrus Todiwala shares his recipe for Green Palav, created in partnership with Tilda Rice. Cyrus says: "This is a simple palav using a basic South Indian style of preparing rice, flavoured with cumin and cracked mustard seeds. I like using sliced coconut as it adds to the texture, but you can omit it if you'd like. For vegetables, feel free to use what you think will work best or what you may have in your fridge (to help reduce waste), but always try to source seasonal vegetables to add taste, texture and variety to the dish, every time."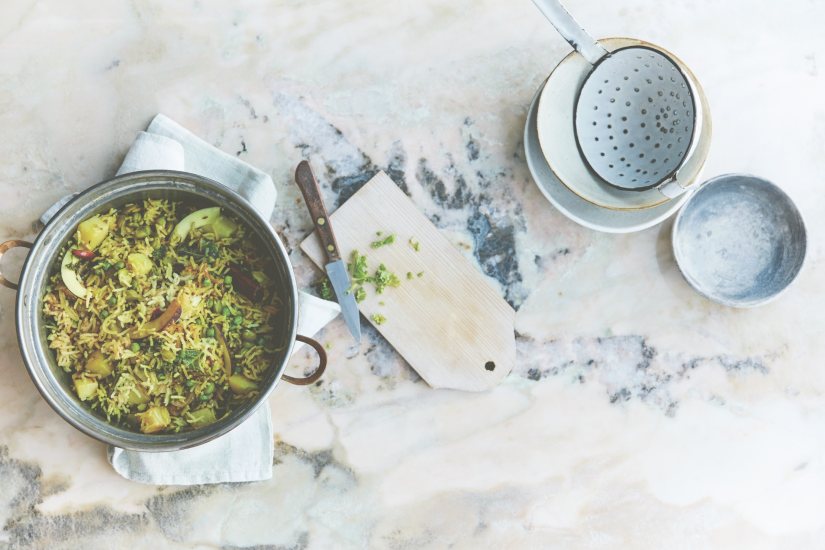 Ingredients:
500g Tilda Pure Basmati Rice
1 medium onion, sliced
2 pieces of stem ginger, chopped
2 dry red chillis, snipped
¼ kernel of fresh coconut, sliced thinly
200g broad beans
½ floret of broccoli
2 handfuls of kale
1 large potato, diced
100g peas
3 tbsp oil
1 tsp salt
1.250 litres water
1 tsp black mustard seeds
1 tsp cumin seeds
12-15 fresh curry leaves, shredded
½ tsp turmeric powder
cinnamon bark
method:
To make stock for the rice, pour the water into a saucepan and bring to the boil. Add a little bit of salt and, one by one, blanch the vegetables until they're cooked to the bite (ie not fully cooked). Lift off each of the vegetables from the water as they are cooked, and put them into a strainer placed over a bowl to cool. Pour the drained water back into the pot.
Measure the water and ensure that it is a litre. If more, reduce slightly; if less, top up with more water.
Heat the oil in a large pot or casserole pan (with a fitted lid) and add the mustard seeds and the cinnamon bark. As soon as the mustard seeds crackle, add the cumin seeds, chilli, curry leaves, ginger and onion.
As soon as the onions turn soft, add the sliced coconut and the turmeric powder and sauté until the coconut starts to change colour slightly around the edges. Now pour the vegetable stock or water into the pot and bring to the boil.
Preheat the oven to 130C/250F/Gas 1/2, and place the rack on the middle shelf – keep the top clear so as to hold the pot with a lid on.
Once the water or stock comes to the boil, check the seasoning and add more salt if needed. Pour in one-fifth of the Tilda Pure Basmati rice and stir gently to prevent it sticking. Repeat intermittently until all of the rice is combined and the water is nearly absorbed. Use a flat wooden spatula to prevent sticking at the bottom and scraping it clean with each stir.
Add the vegetables, stir well, cover the pot and place in the oven. Cook for 15 minutes before turning the oven off and leaving it in for a further 10-12 minutes thereafter, then serve.
Print Recipe
www.tilda.com/
Did you make this recipe?
Share your creations by tagging @livegreenandgood on Instagram with the hashtag #livegreenandgood