Crunchy Carrot and Apple Salad with Cashew Dressing
Serves: 4
Ready in: Under 15 Mins
Cost Cutting Eco Friendly Gluten Free‏ Quick Make Vegan Friendly
This fresh and unusual salad is sure to ring the changes if you're bored with your work lunch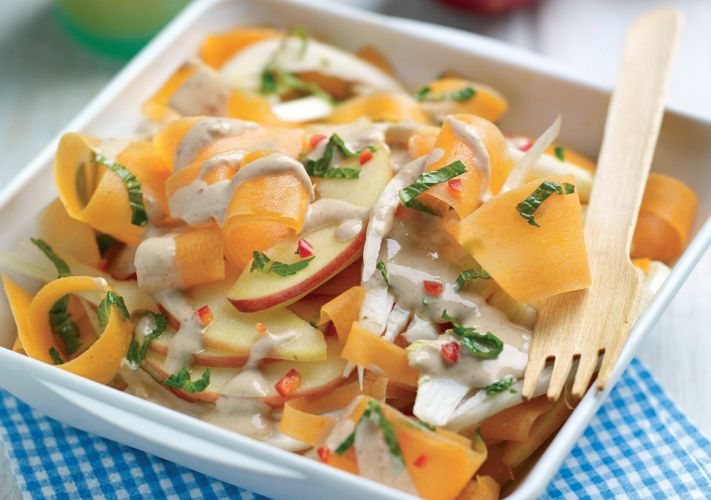 Ingredients:
2 limes
2 tbsp sesame oil
1 red chilli, finely chopped
4 carrots, sliced into ribbons
2 apples, cut into thin slices
1 fennel, cut into thin slices
2 tbsp Meridian Smooth Cashew Butter
1 tsp brown sugar or palm sugar
2 mint stalks, leaves chopped
method:
Combine the juice of one lime with the oil, chilli and a little salt.
Slice all the veg and put into a large bowl with the mint. Drizzle over the lime and oil and toss well.
Beat the cashew butter with the remaining lime juice, the sugar and 2 tbsp water.
Pile the vegetables onto a plate and drizzle over the dressing.
Print Recipe
www.meridianfoods.co.uk
Did you make this recipe?
Share your creations by tagging @livegreenandgood on Instagram with the hashtag #livegreenandgood