Crispy Meatless Mince with Augbergine, Spinach and Ginger
Serves: 4
Ready in: 60 mins +
Looking for a meat-free main course for the whole family to enjoy? This fragrant dish will hit the spot!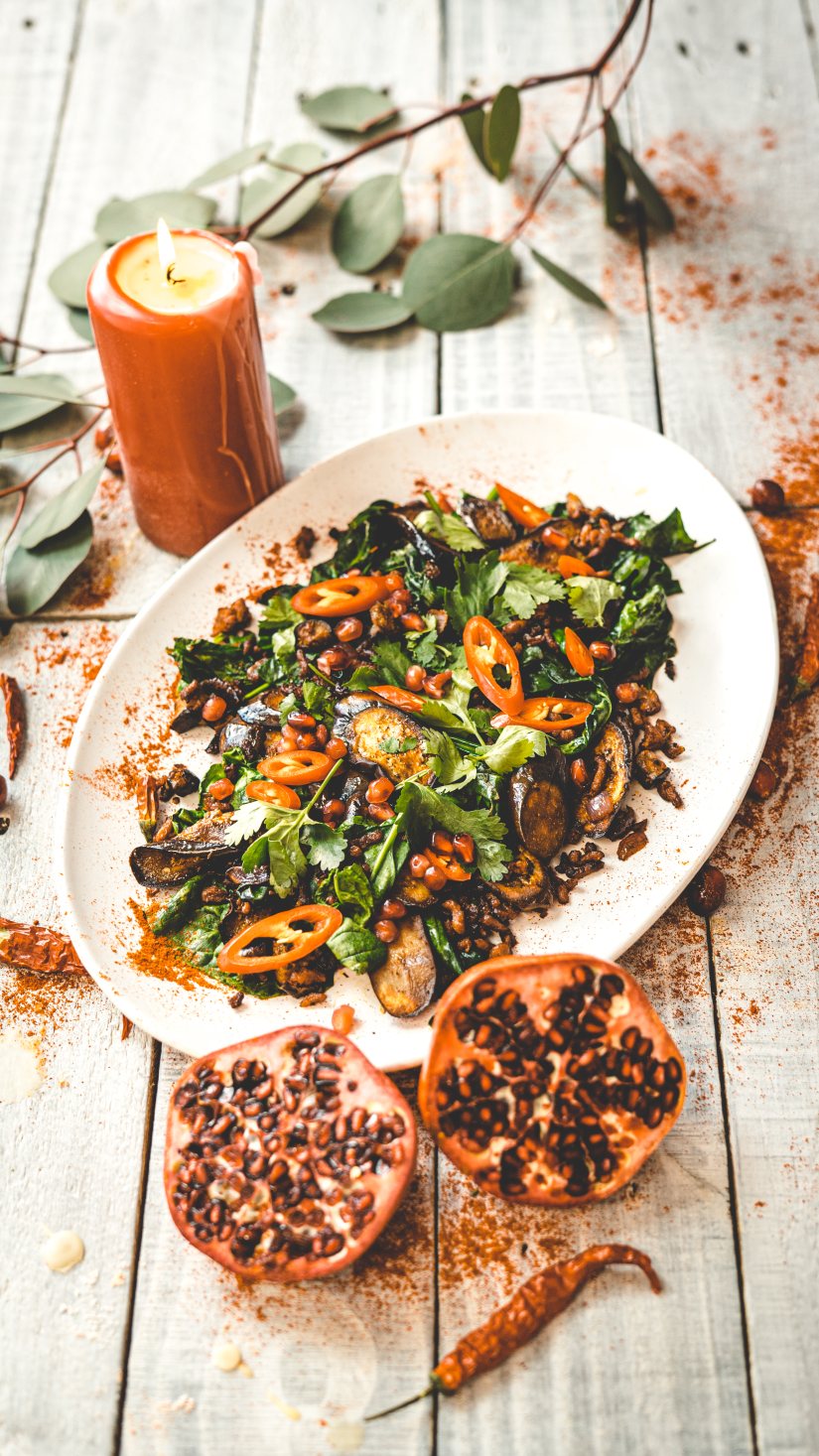 Ingredients:
2 x packs Meatless Farm meat-free mince
2 tsp cornflour
1½ tsp ground cumin
90ml dark soy sauce
60ml pale dry sherry (or Shaoxing rice wine)
1 tbsp caster sugar
2 aubergines, cut into 6cm x 2cm pieces
60ml vegetable oil
2cm piece ginger, peel and cut into thin strips
2 tbsp cumin seeds
½ pack baby leaf spinach
3 red chillies, finely chopped at a 45-degree angle
3 spring onions, finely chopped at a 45-degree angle
1 bunch of coriander, leaves and stalks separated, to garnish
1½ tsp rice-wine vinegar
salt
pomegranate seeds, to garnish
method:
Remove the Meatless Farm mince from the packaging and place in a bowl with the cornflour, a tablespoon of ground cumin, 45ml of dark soy sauce, 30ml of sherry and the sugar. Toss to coat the mince and leave to marinate for up to an hour.
Place the aubergine in a bowl and toss with the remaining cumin and half a teaspoon of salt.
Heat the oil in a large wok on a high flame and fry the aubergine, stirring occasionally, for five mins, until it starts to brown.
Add the ginger and a tablespoon of soy sauce, and fry for three minutes, stirring often, until the aubergine is a dark golden-brown colour. Remove the veg from the wok, wipe the pan clean, then return it to the heat.
Put the cumin seeds in the hot pan and dry fry for about 30 seconds, taking care not to burn them. Tip them into a saucer.
Return the pan to a high heat, and add the rest of the oil. Add the mince mixture to the pan, stirring occasionally, and cook until it becomes crisp and brown. Cook in two batches if required.
In a separate pan, saute the spinach leaves in the oil until soft and wilted.
Return the mince to the wok along with the aubergine, spinach, remaining soy sauce, rice wine, chillies, spring onions, coriander and toasted cumin seeds. Stir and warm the mixture through.
Transfer to a platter and drizzle over the vinegar. Garnish with pomegranate seeds.
Print Recipe
meatlessfarm.com/
Did you make this recipe?
Share your creations by tagging @livegreenandgood on Instagram with the hashtag #livegreenandgood