Creamy Sweet Potato Soup
Serves: 4
Ready in: 15 to 30 mins
Know your nutrients
There's nothing like a bowl of creamy soup to warm you up on those chilly autumn and winter days. This vegan sweet potato soup recipe is creamy, smooth and lovely. It's lightly flavoured with some Indian spices, and really easy to make. Be More Vegan: The Young Person's Guide to a Plant-based Lifestyle by Niki Webster (£14.99, Welbeck) is published 29th October, 2020. You can follow Niki on Instagram @RebelRecipes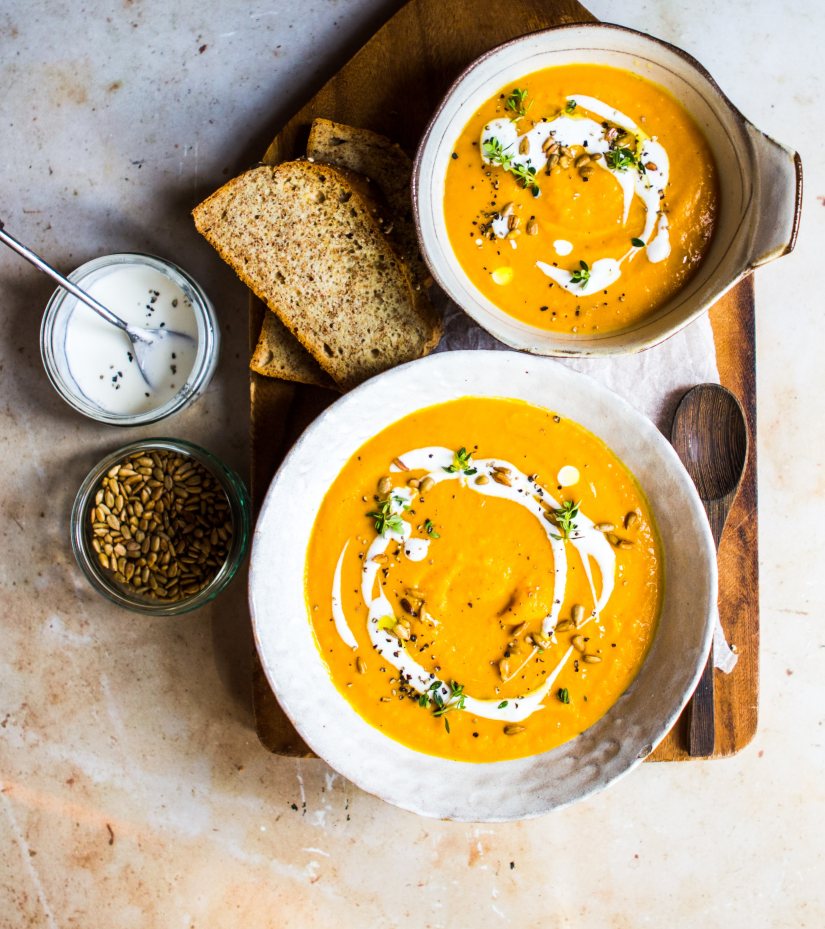 Ingredients:
2 tbsp olive oil
1 onion
2 garlic cloves
1 tsp ground cumin
1 tsp turmeric
1 tsp ground coriander
3 small sweet potatoes, peeled and chopped into small cubes
500ml veg stock
1 tin coconut milk
1 tbsp tomato purée
twist of black pepper
½ tsp salt
Toppings:

toasted seeds or nuts
a swirl of plant-based yoghurt
pinch of chilli flakes (if you like some spice!)
method:
Chop the onion into small dice, and chop the garlic up finely.
Add the onion to a large pan with the olive oil and sauté for 7-8 minutes on a low heat. Add in the spices and garlic, and fry for a further few minutes.
Next add the sweet potato, veg stock, coconut milk and tomato purée to the pan and simmer for 15 minutes, covered, until the sweet potato is soft. Season with salt and pepper.
Turn off the heat, then blitz using a hand blender, until smooth and creamy.
Add more water if you'd like it thinner.
To serve, top with the toasted seeds and plant-based yoghurt.
Print Recipe
www.rebelrecipes.com/
Did you make this recipe?
Share your creations by tagging @livegreenandgood on Instagram with the hashtag #livegreenandgood