Creamy Dairy-Free Veggie Pot Pies
Ready in: 60 mins +
This dairy-free pie will certainly warm you up on a chilly autumn day!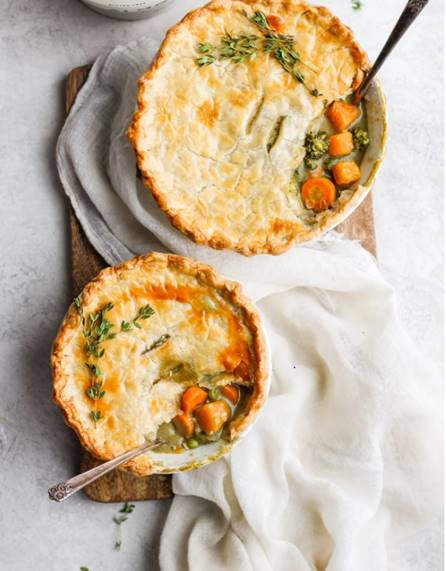 Ingredients:
2-3 tbsp olive oil
1 cup yellow onion, chopped
1 tbsp garlic, minced
2.5 cups cubed butternut squash
1 large russet potato, cubed
1 cup sliced carrots
2 large stalks celery, cut into thick slices
2 cups broccoli, cut into small pieces
1 cup frozen peas
1/4 tsp ground black pepper
2 tbsp salt
1 tbsp ground thyme
2 tbsp ground sage
1/3 cup flour
250ml Califia Farms Unsweetened Almond Milk
2.5 cups vegetable broth
For the pastry:
2 cups flour
1 1/2 tsp salt
1/2 cup oil (not olive oil)
5 tbsp cold water
method:
To make the pie crust, combine the oil pastry ingredients together, then divide your dough into two balls. Place each one between pieces of wax paper and roll out into large circles for the pie crust.
Now make the filling. Add olive oil to a large saucepan, place on a medium-high heat, then add onion and garlic. Stir as the onion softens, approximately 2-3 minutes.
Add 1/2 cup of broth to keep the pan from drying out, then add the butternut squash, potato, carrots, celery, broccoli and peas, and stir to mix.
Add the flour and mix to fully coat. Add milk a 1/2 cup at a time, mixing after each pour. Then, add broth 1/2 cup at a time, mixing after each pour as well.
Let the mixture simmer, until it thickens. If it isn't thickening enough after 10 minutes, add additional flour a tablespoon at a time, and mix well. Taste and add additional salt, to taste. The filling makes approximately eight cups, and the pie crust makes enough dough for a full-size pie. You can make individual pot pies, one large pot pie, or two medium pot pies. Bake at 180C/350F/Gas 4 for 30-45 minutes - don't forget to cut slits in the crust and to do a light egg-wash as well.
Print Recipe
www.califiafarms.com/
Did you make this recipe?
Share your creations by tagging @livegreenandgood on Instagram with the hashtag #livegreenandgood