Heart-shaped Chocolate Cake
Ready in: 60 mins +
Everyone knows chocolate cake is the way to a person's heart! Spread the love this Valentine's Day with this irresistible cake recipe from Bonne Maman...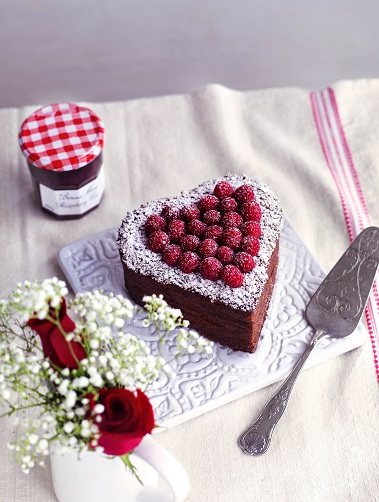 Ingredients:
100g cooked beetroot, roughly chopped
5 tbsp Bonne Maman Raspberry Conserve
125g milk chocolate, chopped
125g unsalted butter, diced
125g plain flour
1 tsp baking powder
6 tsp cocoa powder
3 medium free-range eggs, separated
110g golden caster sugar
15g finely chopped hazelnuts
fresh raspberries and icing sugar, to decorate
method:
Heat the oven to 180/350F/Gas 4. Grease and line a 15cm wide x 8cm deep heart-shaped tin with baking parchment.
Put the beetroot and two tablespoons of the conserve in a blender and blitz for a few seconds until it forms a purée.
Put 100g of the chocolate and 100g of the butter into a large heatproof bowl and set over a saucepan of gently simmering water for 10 minutes to melt.
Meanwhile, sift together 70g of the flour, the baking powder and five teaspoons of the cocoa.
Stir the melted chocolate and butter together until smooth. Now beat in the egg yolks until smooth then fold in the beetroot purée.
Whisk the egg whites until stiff, then gradually whisk in 85g of the sugar until the egg whites are stiff and shiny. Fold into the beetroot mixture, then sift the dry ingredients again into the bowl and fold in quickly using a large metal spoon.
Spoon the mixture into the prepared tin, turn the oven down to 160C/325F/Gas 3, and put the tin in the oven for 45 minutes to one hour, or until a skewer pushed into the centre comes out clean. Leave to cool in the tin before turning out.
Meanwhile, make the chocolate crumbs. Put the remaining 55g of plain flour, one teaspoon of cocoa, 25g of caster sugar and 25g of butter into a small bowl, and rub everything together until the mixture is crumbly. Spread the crumbs on a foil-lined baking sheet and put into the oven for 15-20 minutes, until lightly baked. Set aside to cool.
Finely grate the remaining 25g of chocolate into the cold crumbs and add the hazelnuts.
Turn the cake bottom-side-up and spread with the remaining conserve. Spoon over the chocolate crumbs and pat down well into the conserve.
Put a heart of fresh raspberries on top, and dust with icing sugar before serving.
Print Recipe
www.bonnemaman.co.uk/
Did you make this recipe?
Share your creations by tagging @livegreenandgood on Instagram with the hashtag #livegreenandgood