CHOCOLATE & BEETROOT VALENTINE'S HEARTS
These gluten-free and vegan valentine's treats are adorable! They match up two lifetime partners in the flavours of beetroot and chocolate and they are liberally drizzled in the most delicious vegan white chocolate. Not only are these valentine's hearts suitably naughty they are also nutritious providing healthy fats, vitamins and minerals and no empty calories! Warning: Its quite possible that they could inspire acts of love.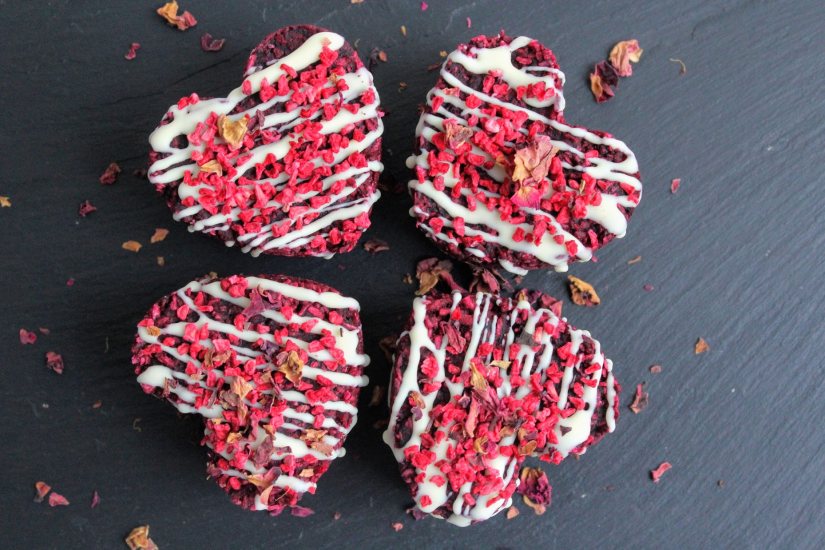 Ingredients:
For The Base
50g Indigo Herbs brown rice flour
25g ground almonds
2 tablespoons Indigo Herbs cacao powder
1 teaspoon vanilla extract
2 tablespoons Indigo Herbs almond butter
4 tablespoons Indigo Herbs maple syrup
3-4 tablespoons almond milk
For The Topping
2 tablespoons coconut oil
2 tablespoons maple syrup
6 tablespoons desiccated coconut
2 teaspoons Indigo Herbs beetroot powder
For The Vegan White Chocolate
50g Indigo Herbs raw cacao butter
1 tablespoon cashew butter
2 tablespoons Indigo Herbs maple syrup
1/2 teaspoon vanilla extract
To Decorate
Freeze-dried raspberries
method:
First make the brownie layer: Mix together the brown rice flour, ground almonds, cacao powder in a bowl. Melt the almond butter and maple syrup then pour into the dry ingredients along with the vanilla and almond milk. Mix to combine then press into heart-shaped molds or lined tupperware box/tin and press in with your hands to cover the base evenly.
Mix together the desiccated coconut and beetroot in a bowl then melt the coconut oil and maple syrup and mix together until the mixture comes together in a sticky mixture.
Spread this over the base and pack in tightly. Leave to set in the fridge for at least 3 hours.
Make the white chocolate by carefully melting the cacao butter in a heatproof bowl over a pan of simmering water until completely melted then remove from the heat. Whisk in the cashew butter, maple syrup and vanilla until smooth.
Pop the hearts out and place on a wire rack then drizzle over your homemade white vegan chocolate over each and scatter freeze-dried raspberries. Allow to chill a little more then you're ready to serve and enjoy!
Print Recipe
www.indigo-herbs.co.uk
Did you make this recipe?
Share your creations by tagging @livegreenandgood on Instagram with the hashtag #livegreenandgood