Chili and Ginger Tofu with Purple Sprouting Broccoli
Serves: 2
Ready in: 15 to 30 mins
Lovely crisp tofu with fragrant ginger and fresh chili for a easy and delicious dish.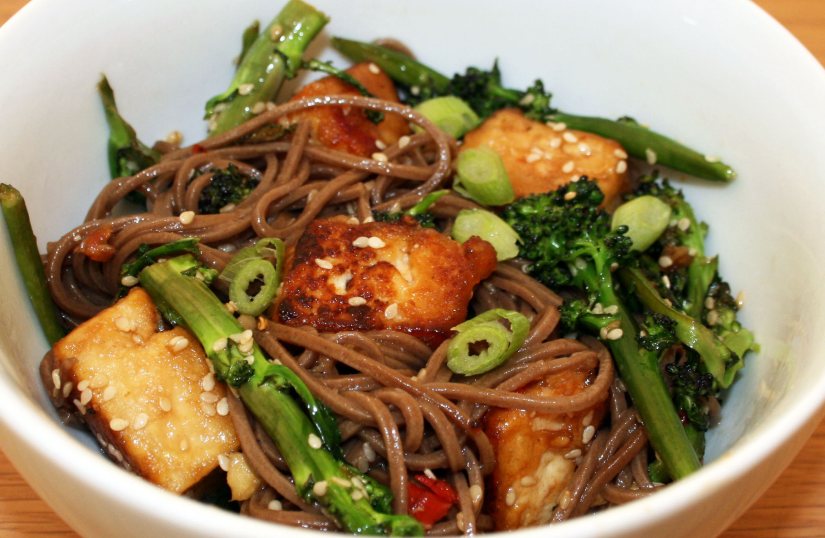 Ingredients:
4 tbsp sweet chilli sauce
4 tbsp soy sauce
1 tbsp grated ginger
½ small red chilli chopped
1 tbsp white wine vinegar
4 tbsp water
100g tofu chopped into chunks
4 tbsp corn flour
olive oil
purple sprouting broccoli
1 tbsp sesame seeds
80g soba noodles
spring onion to serve
method:
Make the tofu marinate by mixing together the sweet chilli sauce, soy sauce, ginger, chilli, white wine vinegar and water in a bowl then chuck to tofu in and swish it around a bit so that it is covered in marinade.
Cover with cling film and leave to soak for 2-4 hours. When ready to cook, heat the oil in a pan until very hot and boil another pan of water for the noodles. Roll the tofu in the corn flour (retain the marinade) then add to the pan turning frequently until all the sides are golden brown.
Add the noodles to the boiling water. Then turn down the heat on the tofu, add the broccoli and stir-fry for 5 minutes until the start to soften.
Add the sesame seeds and cook for a further minute, then strain the noodles and add to the pan.
Cover the noodles and tofu in the marinade and mix well. Top with sliced spring onion and serve!
Print Recipe
Did you make this recipe?
Share your creations by tagging @livegreenandgood on Instagram with the hashtag #livegreenandgood