Celeriac Rosti
Serves: 4
Ready in: 15 to 30 mins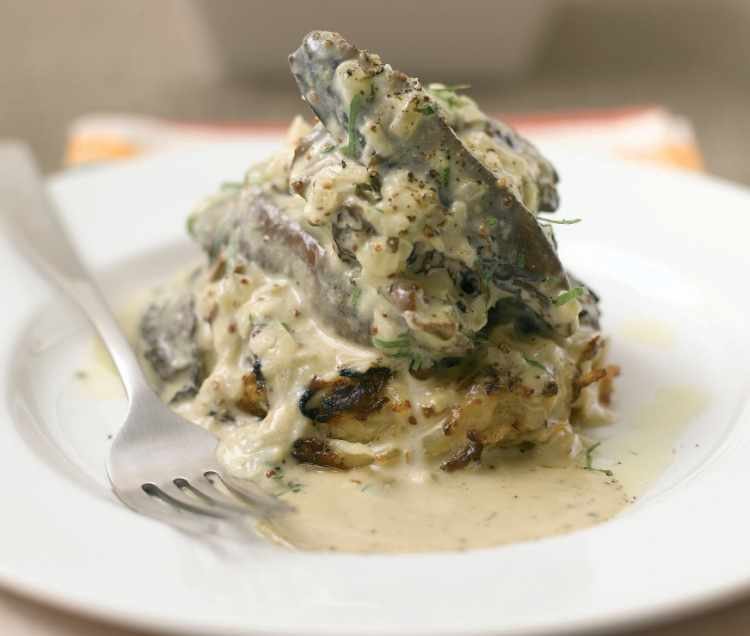 Ingredients:
1 medium celeriac, peeled and quartered
500g potatoes, peeled
oil and butter, for frying
200g Westcombe Dairy mature Cheddar
a knob of butter
2 tbsp olive oil
1 small onion, chopped
2 garlic cloves, chopped
small glass veggie sherry
570ml double cream
1 tbsp wholegrain mustard
1 small bunch flat leaf
parsley, chopped
500g forest mushrooms, trimmed to preferred size
a knob of butter
2 tbsp olive oil
1/2 lemon
method:
Place the celeriac and the potatoes into salted water then bring to the boil, then turn off.
Grate the cooked celeriac and potatoes and season to taste. Make four patties and set aside.
Heat the butter and oil in a saucepan, add the onions and garlic and sweat for five minutes until soft.
Add the sherry and reduce the mixture by half. Pour in the cream and reduce the mixture by half again. Stir through the mustard and set aside.
Meanwhile, fry the forest mushrooms. Add the lemon juice and combine it with the cream sauce.
Fry the rosti on both sides until golden brown, (about 5-7 minutes each side).
Bring the sauce back to the heat and add the cheese and most of the parsley. Place the rosti on a plate and spoon over the sauce. Garnish with parsley.
Print Recipe
Did you make this recipe?
Share your creations by tagging @livegreenandgood on Instagram with the hashtag #livegreenandgood