Butternut Squash & Sweet Potato Gratin
Serves: 6
Ready in: 30 to 60 mins
This indulgent warming dish is perfect for warming you up on cosy winter nights, and the combination of sweet potato, squash and cheese is seriously delicious.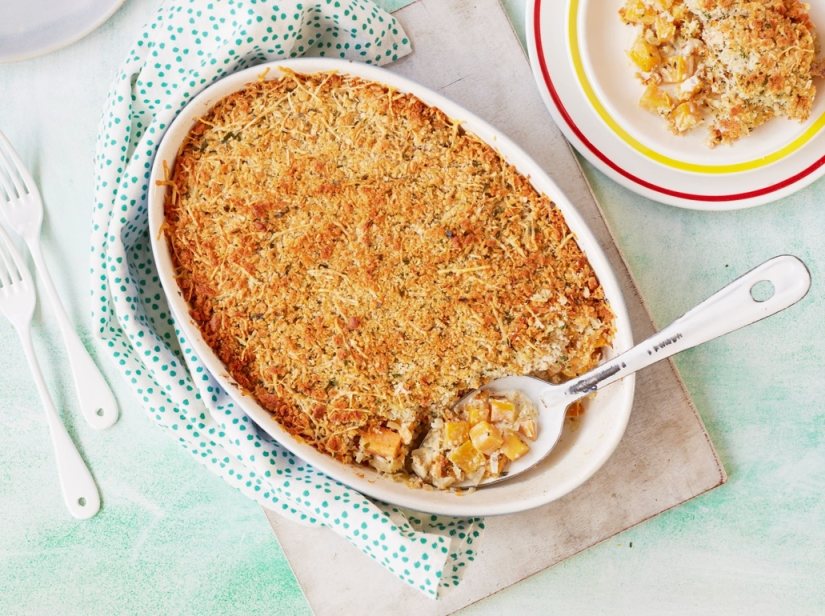 Ingredients:
Frylight Cooking Spray
500g butternut squash, peeled and cubed
500g sweet potatoes, peeled and cubed 
2 onions, diced 
2 tsp dried sage
300ml vegetable stock 
1 tsp ground mace
2 garlic cloves, minced
2 tbsp thick cream 
100g breadcrumbs 
100g hard cheese, grated 
1 tbsp dried parsley
75g Gruyere cheese, grated
method:
Preheat the oven to 200/400F/Gas 6. Spray an ovenproof dish with Frylight and place cubed squash and potato into a microwave safe bowl with 1 cup of water. Cover and microwave on high for five minutes. Let sit, covered until you are ready to use.
While the squash mixture is in microwave, spray a large frying pan with Frylight to cover the cooking surface of the pan and place on a medium heat. Wait until the Frylight is clear, then add the onions and sage and cook until starting to soften, about 7-10 minutes.
Drain the squash and potato mix and add to the pan along with the stock, mace and garlic. Season to taste. Cook for about 5 minutes, stirring occasionally until most of the broth is absorbed. Stir in the heavy cream, cooking for 3 minutes more or until slightly thickened. Transfer the mix to the prepared ovenproof dish.
Mix together the breadcrumbs, hard cheese and parsley in a small bowl and then sprinkle this on top of the squash mixture. Top with the grated Gruyere and bake for 20-25 minutes until golden and bubbling.
Print Recipe
www.frylight.co.uk
Did you make this recipe?
Share your creations by tagging @livegreenandgood on Instagram with the hashtag #livegreenandgood