Butternut Squash and Goat's Cheese Risotto
Serves: 4
Ready in: 30 to 60 mins
Cost Cutting Eco Friendly Gluten Free‏
Know your nutrients
Ring the changes by replacing the thyme with crispy fried sage leaves - they're delicious with butternut squash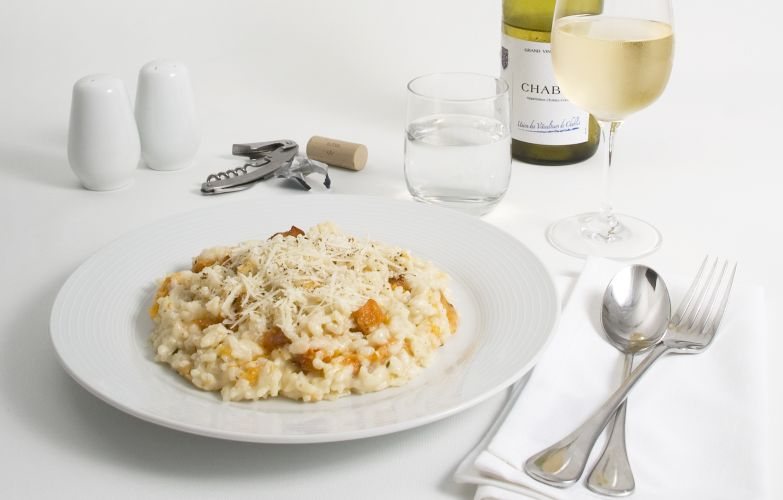 Ingredients:
1 large onion (approx 210g), finely chopped
1 small butternut squash (approx 600g), peeled, deseeded and cut into 1cm pieces
125g Delamere spreadable goat's cheese
300g Arborio risotto rice
150ml vegetarian white wine
45g Delamere goat's butter
30g vegetarian Parmesan-style cheese, grated
3 tbsp olive oil
1 lt gluten-free vegetable stock
1 garlic clove, finely chopped
4-5 sprigs fresh thyme, leaves stripped from stalk (or 1 tsp dried thyme)
method:
Preheat the oven to 220C/425F/Gas 7. Drizzle 2 tbsp olive oil over the butternut squash and roast for 20-25 minutes, or until the flesh is tender and has begun to char.
Meanwhile, heat 1 tbsp olive oil and 15g goat's butter (1 tbsp) in a frying pan and gently fry the onion, garlic and thyme for five minutes, or until soft. Add the risotto rice (stirring well to coat the rice in the oil and butter) and cook for 1-2 minutes, or until it becomes slightly translucent.
Pour in the wine and simmer until it has been absorbed. Add a ladle of stock and simmer, stirring, until it has been absorbed. Repeat, adding a ladle of stock at a time until the rice is tender, but retains a slight bite and the liquid has been absorbed. If you run out of stock just add boiling water, a little at a time, until the rice is cooked. This will take 20-25 minutes.
Once the risotto is cooked, stir in the roasted butternut squash, grated Parmesan-style cheese, 30g butter (2 tbsp) and the spreadable goat's cheese. Season to taste with salt and pepper and serve immediately.
Print Recipe
www.delameredairy.co.uk
Did you make this recipe?
Share your creations by tagging @livegreenandgood on Instagram with the hashtag #livegreenandgood