Buckwheat Pancakes with Mushrooms
Serves: 4
Ready in: Under 15 Mins
Cost Cutting Eco Friendly Quick Make
Don't save pancakes just for Shrove Tuesday - these savoury ones make a delicious dinner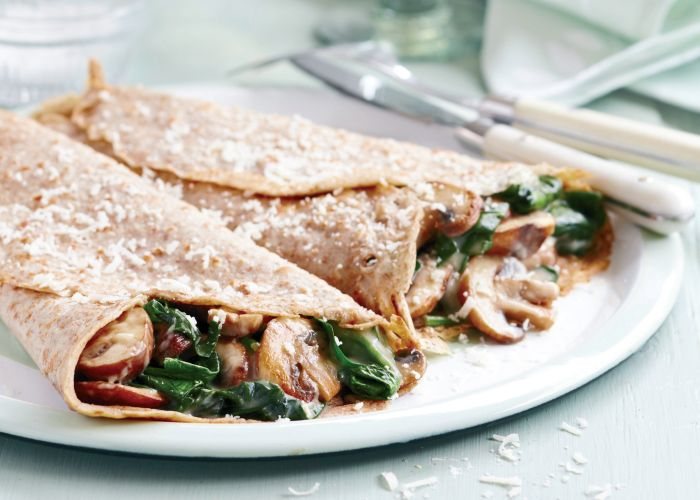 Ingredients:
275ml Alpro Almond Milk
1 free-range egg
55g wholemeal flour
55g buckwheat flour
30g butter, for frying

[hd]For the filling[/hd]
50g flour
50g butter
275ml Alpro Almond Milk
1/4 tsp nutmeg
50g grated vegetarian Parmesan-style cheese
100g sliced chestnut mushrooms
3 large handfuls of baby spinach
olive oil
method:
Melt 50g of butter in a pan. Add the flour to create a paste. Continue cooking for a further 30 seconds.
Gradually add the milk, stirring vigorously until you have a smooth white sauce. (Make sure to stir well to prevent lumps forming.)
Fry the mushrooms in the oil until brown and wilt in the spinach. Stir the mushrooms into the white sauce, add the cheese and nutmeg and season to taste.
Meanwhile, add the two types of flour to a bowl and make a small well.
Lightly whisk the egg into the milk. Pour some of the egg mixture into the flour and begin to whisk. Continue adding the liquid and whisking until you have a smooth batter.
Melt the butter in a non-stick frying pan and add a ladle of the batter. Swirl to evenly coat the base of the pan and when the pancake becomes shakeable, flip it. Repeat until you have used all of the batter and then fill them with the mushroom and spinach filling.
Print Recipe
www.alpro.com
Did you make this recipe?
Share your creations by tagging @livegreenandgood on Instagram with the hashtag #livegreenandgood