Braised Fenland Celery with Celery & Hazelnut Pesto
Serves: 2
Eco Friendly Gluten Free‏ Quick Make
Looking for a grown-up starter for your next dinner party? Look no further...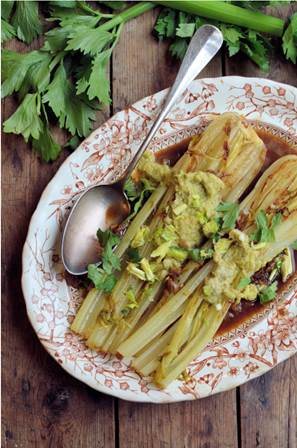 Ingredients:
1 head Fenland celery, all leaves removed for the pesto (see below)
1 tsp unsalted butter
1 pinch of salt
1 shallot, peeled and sliced
1 garlic clove, peeled and sliced
300ml gluten-free vegetable stock
the juice of 1 lemon
For the pesto:
all of the reserved leaves from the head of celery
1 tbsp flat leaf parsley leaves
1 garlic clove, peeled and crushed to a paste
1 pinch of salt
cayenne pepper
the juice of ½ lemon
3 tbsp roasted peeled hazelnuts
3 tbsp rapeseed oil
method:
For the celery braise, wash the celery well. Trim both ends of the head then cut in half through the root. Place the celery into a large heavy-based pan, cut side down, with the butter and a pinch of salt. Gently sweat over a medium heat for 3-4 minutes, or until the celery is slightly softened. Add the shallot and garlic. Cook for another 3-4 minutes. 
Pour in the stock and, a good squeeze of lemon juice, bring to a simmer. Cook for 15-20 minutes over a low heat or until the celery is soft and tender. Keep warm.
Now, make the pesto. Place the celery and parsley leaves in a food processor, add the garlic, a good pinch of salt, cayenne, lemon juice and hazelnuts. Blitz, dribbling in the rapeseed oil until a pesto consistency is achieved, let down with more oil if necessary. Check the seasoning and add more salt, cayenne and lemon to taste.
To serve, carefully lift the braised celery from the pan. Place on a serving platter with the cut side facing upwards. Spoon over the pesto and serve.
Print Recipe
www.fenlandcelery.com/
Did you make this recipe?
Share your creations by tagging @livegreenandgood on Instagram with the hashtag #livegreenandgood