Bill's Israeli Couscous Salad
Serves: 4
Pearl-like Israeli couscous is so named because it is very popular in Israel, where it is known as ptitim. It resembles the tiny grains we are familiar with, but the texture is quite different – smooth rather than gritty – and, although it is made from wheat, it's toasted and has a unique nutty flavour. It can be used in place of normal couscous, pasta or rice in any main course or side dish.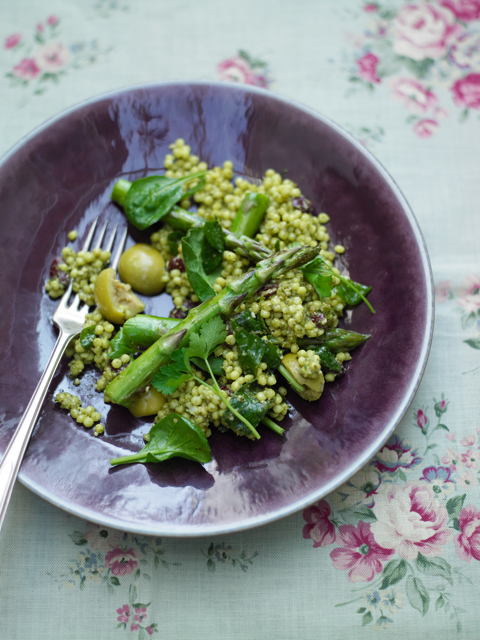 Ingredients:
1 tsp turmeric
250g Israeli couscous
50ml white wine vinegar
the juice of 2 lemons
125g asparagus
3 tbsp olive oil
2 tbsp vegetarian pesto
salt and pepper, to taste
1 x 400g tin of kidney beans, drained and rinsed
200g fresh spinach leaves
275g large stoned olives
handful of parsley, to garnish (optional)
mixed seeds, for topping (optional)
You will also need:
a large pan
a griddle pan or frying pan
method:
Bring a large pan of water to the boil. Add the turmeric and couscous, then simmer for 20 minutes. Drain well and, while still hot, stir in the vinegar and lemon juice. Cover, and leave to cool.
While you're getting the griddle pan good and hot, trim any tough ends from the asparagus, then coat the spears in 1 tbsp of olive oil. Griddle for 5-10 minutes until crispy.
Stir the pest and remaining olive oil together in a jug, season with salt and freshly ground black pepper and pour this dressing over the couscous. Mix in the kidney beans, spinach and olives. To serve, place the mixture in a wide, shallow dish and top with the griddled asparagus.
You can sprinkle some roughly chopped parsley across the top and/or a couple of tablespoons of crunchy seeds.
Print Recipe
bills-website.co.uk/
Did you make this recipe?
Share your creations by tagging @livegreenandgood on Instagram with the hashtag #livegreenandgood